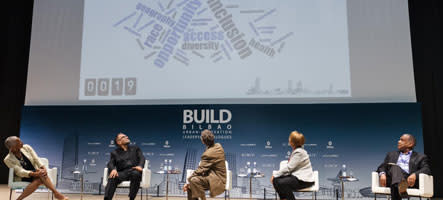 (FLINT, Mich. – Sept. 15, 2015)  Janice Karcher, Vice President of Economic Development for the Flint & Genesee Chamber of Commerce, is participating in the second annual Bilbao Urban Innovation and Leadership Dialogue (BUILD), a select international conference for key policymakers and planners in the U.S. and Europe.
Held in Bilbao, Spain, from Sept. 16-18, the BUILD 2015 will bring together diverse voices and perspectives to identify the common challenges and the potential for shared solutions between U.S. and European cities. Karcher was invited back to the BUILD, which is sponsored by the U.S.-based German Marshall Fund, after participating in last year's inaugural event.
Karcher will be joined by leaders in elected office, local governments, private corporations, non-profit organizations, philanthropic institutions, universities and think tanks. The 2015 attendees hail from more than 60 cities in 14 countries that span both sides of the Atlantic. Flint and Detroit are the only Michigan cities represented at the BUILD 2015.
For more information about the BUILD, visit www.gmfus.org
 Photo credit: The German Marshall Fund