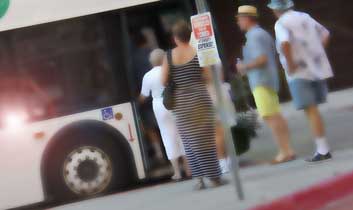 (FLINT, Mich., April 1, 2014) -- The Flint & Genesee Convention & Visitors Bureau (FGCVB) partnered with more than 200 representatives from museums, attractions, hotels, and visitors' bureaus from 14 states and Canada to market the region to the motor coach tourism industry at Heartland Travel Showcase in Toledo, Ohio, March 7-9.
Heartland Travel Showcase is the Midwest's largest motor coach marketplace and features the region's top destinations and attractions for group tours. Participation in the Showcase can generate upwards of $30,000 of tourist revenue for a destination annually.
"Partnering with other states and provinces makes it easier to attract tour operators and offers us more selling opportunities," said Cheryl DeFrain, Director of the FGCVB. During the Showcase event tourism representatives met one-on-one with tour operators interested in developing travel packages for future motorcoach tours.
"The economic impact of motercoach groups has the potential to be significant. The average motorcoach tour participant will spend at least $50 when they visit a destination," said DeFrain. "It is our goal to attract more motorcoach business to Genesee County."
States and provinces represented at this year's marketplace included Illinois, Indiana, Iowa, Kentucky, Michigan, Minnesota, Missouri, New York, North Dakota, Ohio, Pennsylvania, Tennessee, West Virginia, and Ontario, Canada.
According to a recent study by the American Bus Association, groups traveling by bus spent $13.6 billion 2012, and that number is likely to grow. Ninety-two percent of tour operators reported having more customers in 2013, according to a U.S. Tour Operators Association study released in December. Motorcoach tours generate revenue for restaurants, hotels, museums, attractions, shops, and more.