(FLINT, MICH. – February 17, 2014) Celebrating local businesses and encouraging local buying are the focus of the new Made in Flint & Genesee Campaign.  The Flint & Genesee Chamber of Commerce has launched an initiative designed to encourage consumers and businesses to purchase products that are produced in the region.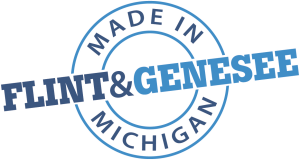 The campaign encourages local investment, strengthens community connections and promotes local prosperity according to Tim Herman, CEO of the Chamber.  He says Made in Flint & Genesee provides a vehicle that supports local businesses.
"Buying local is not a new concept, but it is an important concept for the region," said Herman.  "Made in Flint & Genesee provides a way for consumers to identify products that are made here.  The campaign will help people and businesses support their neighbors and that helps our region prosper."
Registered businesses that make, assemble and sell their own products in Flint and Genesee County will appear on the Made in Flint and Genesee web page on the Chamber website.  Participants will also have access to the Made in Flint and Genesee logo, which is designed to help consumers identify products and services that are locally produced. To be eligible to register, businesses must be located in Flint and Genesee County, produce and sell a consumer product and be members of the Chamber.
According to Heather Kale, Director of Member Services for the Chamber, the campaign is all about providing member businesses with an opportunity to showcase their locally produced products while encouraging consumers and other businesses to buy local.
"Made in Flint & Genesee is a great way to showcase the products produced in the region while at the same time providing a benefit for member businesses," said Kale.
To learn more about Made in Flint & Genesee or if you are interested in joining the campaign, visit https://www.flintandgenesee.org/develop/made-in/ .