Jason Scott, Global Vice President of Lear Corp.'s GM Seating Group, Keynotes
The Flint & Genesee Chamber of Commerce on March 22 will hold its 2018 Annual Meeting at the Holiday Inn Flint-Grand Blanc Area, 5353 Gateway Centre. Standing firm with last year's theme, "2020: Building the Future" will include a recap of the Chamber's accomplishments from the past year and update the progress toward the regional goals.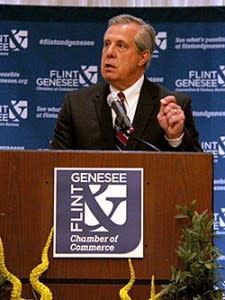 Keynote speaker Jason Scott, Global Vice President of Lear Corp.'s GM Seating Group, will discuss talent management as a business strategy. Scott's appearance comes amid considerable excitement surrounding Lear's decision to build a new manufacturing facility on the former site of Buick City. The plant, which is currently under construction, is the first major automotive supplier manufacturing facility built in Flint in more than 30 years. It will employ about 600 workers when it reaches full production.
"There were so many outstanding redevelopment projects and new investments, including the Lear project, that helped to maintain positive momentum and keep Flint & Genesee moving forward in 2017," said Chamber CEO Tim Herman. "We are proud to have played a role in many of them, working alongside our great partners in private and public sectors and our community stakeholders."
Doors open at 11:30 a.m. Admission is $15 for the luncheon program and open to the public. RSVP is required. The luncheon and program will begin at noon. To register, visit annual meeting.