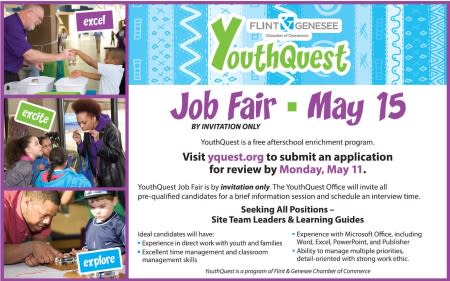 Interested Applicants Must Apply by May 11
(FLINT, Mich., April 28, 2015) – If you like working with youth and are looking for a job, the YouthQuest afterschool enrichment program has an opportunity for you.
The YouthQuest program has immediate openings for site team leaders and learning guides that will be up for grabs during an invitation-only job fair on Friday, May 15.
To be eligible for the job fair, interested applicants must submit a resume for review by 5 p.m. Monday, May 11. The YouthQuest office will invite all pre-qualified candidates for a brief information session and schedule an interview time.
YouthQuest is a comprehensive, free afterschool program that serves more than 2,000 K-12 students in 18 schools in Flint & Genesee. It is administered by the Flint & Genesee Chamber of Commerce.
"If you are passionate about working with students in a fun and innovative environment, we want to hear from you," said Rhetta Hunyady, Vice President of Education for the Flint & Genesee Chamber.
Ideal candidates will have:
Experience in direct work with youth and families
Experience with Microsoft Office, including Word, Excel, PowerPoint and Publisher
Excellent time management and classroom management skills
The ability to manage multiple priorities and be detail-oriented with a strong work ethic
Those interested in a YouthQuest job can apply online at http://www.yquest.org/index.php/about/job-opportunities or email a resume to wtwitty@flintandgenesee.org. Resumes can also be submitted at the Flint & Genesee Chamber, 519 S. Saginaw St., Suite 200, downtown Flint.
The YouthQuest program reinforces learning that takes place during the school day by offering high-quality activities and services that encourage the exploration of new interests in the areas of STEM and the arts, and promotes academic achievement, physical fitness, youth leadership and volunteerism.
For more information about YouthQuest, contact Hunyady at rhunyady@yquest.org or visit http://www.yquest.org/.
About YouthQuest
YouthQuest is a high-quality, research-based afterschool program offering educational and enrichment activities that engage young minds. Available at 15 sites in the city of Flint and Genesee County, YouthQuest serves 2,000 students in grades K-12 each year. The program is administered by the Genesee Area Focus Fund, a supporting organization of the Flint & Genesee Chamber of Commerce, with support from the Charles Stewart Mott Foundation and 21st Century Community Learning Centers. For more information, visit www.yquest.org.