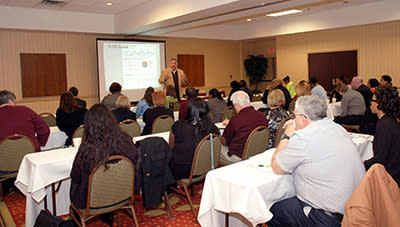 Entrepreneurs and small business owners can gain the knowledge and resources needed to start a business during the Flint & Genesee Chamber of Commerce eTEAM's eighth annual Jumpstart Conference.  The conference, which takes place on Thursday, February 26 from 8:00 a.m. to 1:30 p.m. at the Holiday Inn Gateway Centre, features workshops and an awards luncheon. Chemical Bank will serve as the event's corporate sponsor.
Mark Rice, President of Loving Hands Adult and Senior Care Services, will be the keynote speaker.  Loving Hands is a rapidly growing company that provides Home Health Care, Private Duty Home Care, and Adult Day Care services throughout Michigan.
Jumpstart attendees will have the opportunity to participate in breakout sessions on a variety of topics, including:
Inventors: Idea to FabLab to Market – Featuring insights on prototyping, product development, and other tools available to take your idea from concept to creation.
Lending: What to Expect – Learn what it takes to obtain a commercial loan from the bank, including SBA loan support programs.
Business Plan Basics – It isn't just a requirement for getting a loan – find out how it helps you figure out and virtually test your business concept.
Marketing: Old, new, tried, true – Get insights on what to do, why to do it and how to create a larger "foot-print" on the web.
5.       Business Symposium – Exclusively for businesses with at least three years of history that are ready to build on what they have already achieved, with experts in finance, talent, and strategic planning.
The cost to participate in Jumpstart is $20 per person, which includes breakfast and lunch.  Special student pricing is also available to students who pre-register.  To register for Jumpstart visit www.flintandgenesee.org/jumpstart and for more information contact Karena Hamlet, Business Development Specialist for the Chamber at khamlet@flintandgenesee.org.