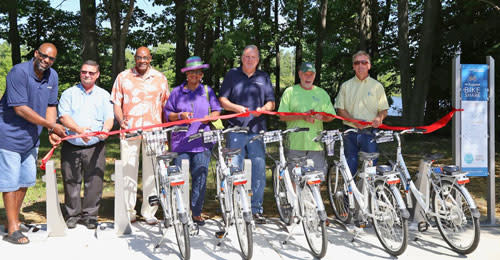 July 20, 2016 
Nothing compares with the simple pleasure of a bike ride. So said President John F. Kennedy.
Genesee County Parks, in collaboration with local partners, is helping to spread the joy with the unveiling of a new Zagster Bike station, as part of the new Flint Bike Share Program. It's the first station to open in the Flint area and will allow users to rent bikes on an hourly or daily basis.
This station is located at the Genesee County Parks Administration building near the park rangers' office at 5045 Stanley Rd. The site provides immediate access to the Bluegill Boat Launch trail, which travels southwest to Stepping Stone Falls and is part of the Iron-Belle Trail system. It also connects into the Flint River Trail system.
A person must be at least 18 to ride. The first half-hour is free to everyone with each additional hour costing $2, or $10 for a day pass and $20 for a three-day pass. Visit http://www.zagster.com/flint for full pricing and program details.
Genesee County Parks on July 14 was joined by representatives from the Flint River Corridor Alliance (a co-collaborator), Flint Cultural Center and Zagster in cutting the ribbon on the new bike station.
Collaborators envision that as the system grows, users will be able to use bike transportation in a way never before experienced in the City of Flint. It will give more people the opportunity to enjoy the quality trail systems of the area and participate in an activity they may not have before.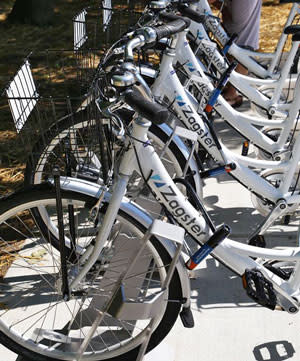 Bikes can be found via the free Zagster Mobile App — available for iPhone and Android — or online at zagster.com/flint. Each bike has a unique number which riders enter into the app to obtain a single-use code to open the lockbox on the back of the bike. (Alternatively, riders can obtain unlock codes via text message.) A key, stored inside and tethered to the lockbox, allows the bike to be locked and unlocked throughout a ride.
After the rider returns the bike to a designated Zagster bike station, the rental ends and the bike is available for the next person to enjoy.
More information about Zagster and its programs can be found at www.zagster.com.