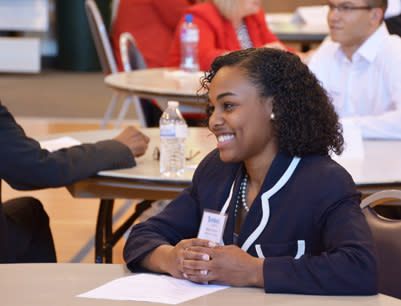 Ruth Mott Foundation, Others Provide Funding for Teen Employment and Training
(FLINT, Mich., Sept. 2, 2015) – The Flint & Genesee Chamber of Commerce today announced the receipt of $132,500 from several local organizations and businesses, including a $75,000 grant from the Ruth Mott Foundation. The funding will support TeenQuest and the Summer Youth Initiative (SYI) – two programs that aim to prepare teens for success in the workplace and beyond.
TeenQuest is a free, afterschool program available to all Genesee County high school students, ages 14-19. After graduating from the five-week, pre-employment leadership training program, students may apply for SYI, which matches hundreds of TeenQuest graduates with area employers each summer.
"Thanks to support of our donors, TeenQuest has provided free training to nearly 7,000 area students over the years – thousands of whom have gone on to secure summer jobs through SYI," said Rhetta Hunyady, Vice President of Education and Training, Flint & Genesee Chamber. "Together, we're helping ensure that our local youth have an advantage as they move forward through school and into their careers."
In addition to the Ruth Mott Foundation, other recent benefactors supporting these programs include:
 Community Foundation of Greater Flint: $24,500 (TeenQuest/SYI)
United Way of Genesee County: $15,000 (TeenQuest)
Child Welfare Society: $5,000 (SYI)
Genisys Credit Union: $5,000 (TeenQuest/SYI)
Loeb Charitable Trust: $5,000 (SYI)
Zonta Club of Flint: $1,000 (TeenQuest/SYI)
Walmart on Corunna Road: $1,000 (TeenQuest/SYI)
Walmart in Burton: $500 (TeenQuest/SYI)
Walmart in Clio: $250 (TeenQuest/SYI)
Walmart in Grand Blanc: $250 (TeenQuest/SYI)
Looking forward, the Chamber is currently preparing for its biannual job fair, to be held Sept. 18.  The invitation-only event, open to TeenQuest and Career Edge alumni, offers applicants a chance to apply and interview for permanent positions at employers including General Motors, Comfort Keepers and ELGA Credit Union.
"This job fair is a great opportunity not only for the job applicants, but also for employers who are seeking to fill entry-level jobs," Hunyady says. "Our TeenQuest alumni have gone through 50 hours of pre-employment training, during which they learn about soft skills such as teamwork, business etiquette, goal setting and conflict resolution. They are strong candidates who are already on the path to the success."
Registration is currently open for TeenQuest, which will offer four, five-week sessions throughout the 2015-16 academic year. The first session will run from Sept. 21 to Oct. 22 at five different school sites in Genesee County.
For more information about the programs, or to register for TeenQuest, visit www.flintandgenesee.org/learn/teenquest/apply-today.
About the Summer Youth Initiative and TeenQuest
The Summer Youth Initiative is a program that helps Flint-area teens find paid summer jobs. It's open to students who've completed the TeenQuest afterschool program, which provides pre-employment and leadership training to students ages 14 to 19 to help them succeed in college and the 21st century workplace. Both programs are administered by the Genesee Area Focus Fund, a supporting organization of the Flint & Genesee Chamber of Commerce, with support from the Charles Stewart Mott Foundation. To apply or learn more, visit www.flintandgenesee.org/teenquest.