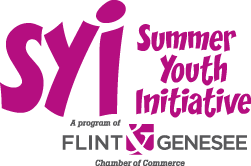 Does your business or organization need summer employees?  Then consider becoming a Flint & Genesee Chamber of Commerce Summer Youth Initiative (SYI) employer. SYI students, ages 14 to 18, are well-prepared and ready to go to work.
By hiring SYI applicants, local employers have an opportunity to employ teens at 50 percent of the normal hiring costs incurred during the first 90 days of employment for up to eight to 10 weeks. Non-profit organizations have the opportunity to employ teens at little or no cost. SYI funds generally cover all teen employment costs for non-profits, and often cover limited program expenses as well.
All SYI teen applicants are successful graduates of TeenQuest, a Chamber pre-employment leadership training program designed to teach important job skills necessary to get and keep a job.
For more information on becoming an SYI employer, visit www.flintandgenesee.org/learn/syi/employer-info-center/