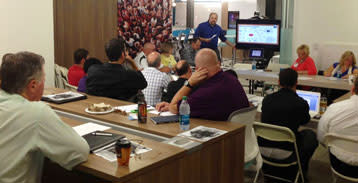 (FLINT, Mich., 7, 2014) – Gain the online advantage with Social Media & Digital Marketing Lunch & Learn seminars hosted by MLive /The Flint Journal and the Flint & Genesee Chamber of Commerce. This series of seminars will educate and equip business owners and professionals with the knowledge and practical tools they need to compete and stand out in the realm of social media and online marketing. 
The seminars are designed especially for Chamber members as stand-alone sessions in two main underlining topics: Social Media for Business Professionals (three sessions in the spring) and Digital Marketing Strategy (three sessions in the fall). Participants may attend all sessions, or only those most appealing to them.  There is no charge to attend these monthly sessions for Chamber members, and lunch is included. Sessions run from noon to 1 p.m. at the MLive Media Group, 540 S. Saginaw St, Flint.
RSVP at: http://mlivelunchandlearn.eventbrite.com/?aff=E221  or by calling the Flint & Genesee Chamber of Commerce at (810) 600-1404.
Upcoming sessions include:
LinkedIn Best Practices, March 19 - LinkedIn is the world's largest network for professionals and is used for everything from hiring to personal branding. Learn best practices for completing your profile, making connections, and researching prospects.
What's the Big Deal with Google+? April 16 - Many people have heard of Google+ but are unclear about how it can benefit their business. Learn the basics of this social network, and how it ties in with the trust and online visibility of your business.
Do I Really Need to Be On Twitter? May 21 - With the perception that Twitter is just for celebrities and teenagers, many business professionals overlook it as a viable social network. Learn how small businesses are utilizing Twitter to gain market intelligence and make profitable connections.