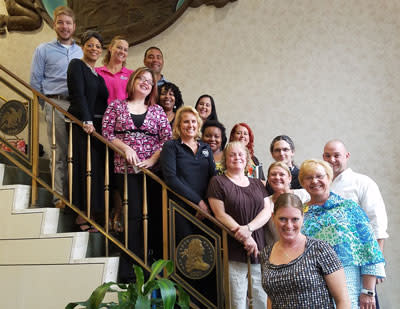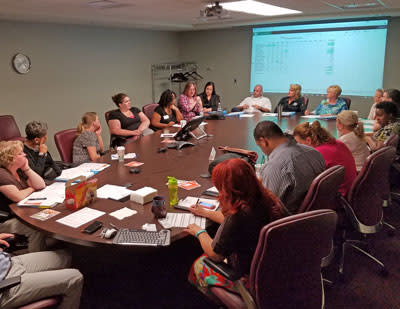 June 29, 2016
If you've ever attended a Flint & Genesee Chamber of Commerce's event – a ribbon cutting, Lunch is On Us or, perhaps, an After Hours Wine Down – it's a good bet that you've been welcomed and served by a smiling corps of your fellow members. This dedicated group is the Chamber Ambassador Team.
But providing host support is just a small piece of what it means to be an Ambassador. They're an integral part of the Chamber's Member Services team.
Ambassadors help foster mutually beneficial relationships, encourage member involvement and serve as catalysts in the Chamber's effort to create a dynamic business climate in Flint and Genesee County. Through periodic visits and phone calls to new, prospective, and existing members, Ambassadors help businesses leverage the full value of Chamber membership. They also provide invaluable insight into needs of local businesses, which then helps the Chamber to tailor its programs and services.
"Our ambassadors play a vital role in the Chamber as well as in the community by helping to retain members, recruiting new members and strengthen the Chamber for the benefit of the region," said Heather Kale, Director of Member Services. "Serving as an ambassador is also an excellent way to expand business contacts and network at the various Chamber events."
Deborah Koval, of Creative Financial Center, said her desire to help the community and businesses grow led her to become an Ambassador for four years ago.
"We cannot grow the business community if we do not help each other," said Koval. "I have met a lot of great people and learned more about the great resources that we have here. It has helped my business just by being out there telling my story but also by listening to others tell their stories, too."
Samantha Siebert said being an Ambassador is "a great experience!"
"I have learned so much about the greater community that I live and do business with – and met so many great businesses that are growing and contributing to Flint, Fenton, Burton, Flint Twp., Clio, Mount Morris, and the surrounding areas that we serve," said Siebert, of Townsquare Media.
"The community network developed by shoulder-to-shoulder activities – like unloading cases of water at Catholic Charities with Member Services and fellow Ambassadors – and face-to-face networking have been instrumental to not only building my 'book of business' but also growing my personal brand and shaping professional goals, as I learn from mentors and other business-community members," Siebert said.
Chamber Ambassadors are volunteers whose employer, or company, is a member in good standing with the Flint & Genesee Chamber. Membership is by application and limited to 25. Approved applicants must complete Ambassador training, including three months of mentoring by an Ambassador Mentor.
For more information on becoming an Ambassador, contact Heather Kale at hkale@flintandgenesee.org.