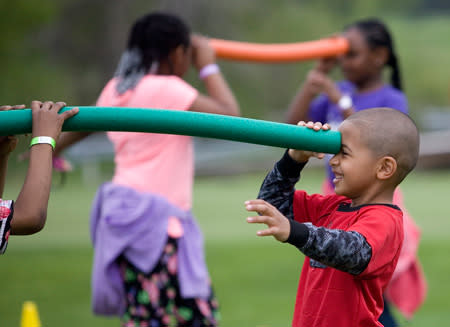 (FLINT, Mich., Aug. 24, 2015) – Registration for YouthQuest – a free, afterschool program that serves nearly 2,000 students in grades K-12 – will kick off Thursday, Aug. 27 at 14 schools across multiple school districts in Flint and Genesee County.
The 36-week program, administered by the Flint & Genesee Chamber of Commerce, offers high-quality activities and services that encourage the exploration of new interests in science, technology, engineering, arts and math. In doing so, it also promotes academic achievement, physical fitness, youth leadership and volunteerism.
"Research shows that students who participate in afterschool programs like ours have better grades, attendance and behavior, thus increasing their odds of graduating from high school," said Rhetta Hunyady, Vice President, Education and Training, Flint & Genesee Chamber. "By providing engaging programming for three hours a day, four days a week, YouthQuest has a significant impact on the lives of our local youth."
During the 2015-16 academic year, YouthQuest will be available to students attending the following schools:
Carman-Ainsworth Community Schools

Dye Elementary
Randels Elementary

Flint Community Schools

Brownell STEM Academy
Doyle-Ryder Elementary
Durant-Tuuri-Mott Elementary
Eisenhower Elementary
Freeman Elementary
Holmes STEM Academy
Neithercut Elementary
Northwestern High School
Pierce Elementary
Potter Elementary
Southwestern Classical Academy

International Academy of Flint

Elementary, middle and high school
On Thursday, Aug. 27, each of the aforementioned schools will host on-site registration from 3-6 p.m. On-site registration will also be held at Flint Community Schools from 3-6 p.m. Monday, Aug. 31.
Starting Thursday, parents can also enroll their children for YouthQuest by completing the registration formand returning it to their child's school by Monday, Sept. 21, when the program begins. However, as space is limited, students are encouraged to sign up early. Registrations will be accepted on a first-come, first-serve basis.
The fall semester follows a busy few months for the YouthQuest program, which served nearly 1,500 students during its six-week summer program. Students participated in many of the same activities offered during the school year, including academics, recreation, field trips and sports.
"YouthQuest is quite an eventful experience," Hunyady said. "Not only does the program help prevent summer learning loss, it keeps boredom at bay."
In addition to taking field trips to the Young People's Ballet and Bay Sail Science Ship, students in the summer program supported several charitable causes. This included collecting dog blankets for the Genesee County Humane Society, hosting a car wash for the Food Bank of Eastern Michigan and conducting a school supplies drive.
For more information about YouthQuest, visit www.flintandgenesee.org.
About YouthQuest
YouthQuest is a high-quality, research-based afterschool program offering educational and enrichment activities that engage young minds. Available at 15 sites in the city of Flint and Genesee County, YouthQuest serves 2,000 students in grades K-12 each year. The program is administered by the Genesee Area Focus Fund, a supporting organization of the Flint & Genesee Chamber of Commerce, with support from the Charles Stewart Mott Foundation and 21st Century Community Learning Centers. For more information, visit www.yquest.org.