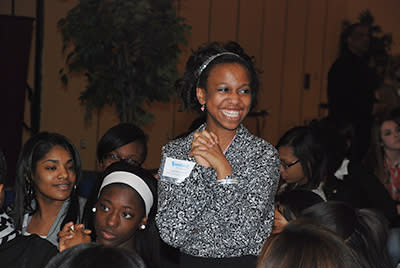 TeenQuest, the pre-employment leadership training program, is accepting applications from youths ages 14-18, grades 9-12 for the fall training class.
The fall session begins Monday, Sept.  15., and concludes on Thursday, Oct. 16. Applications will be accepted through the first day of the fall session.
"We are just wrapping up an extremely successful summer session of TeenQuest, and I'm confident that the momentum and excitement will carry over to kick off the 2014-15 school year," said Rhetta Hunyady, Vice President, Education and Training, Flint & Genesee Chamber of Commerce. "We have five sites for our fall program, and we are excited to get these teens workforce-ready. This program continues to be a win-win for the teens and employers of Flint & Genesee."
In addition to the age and grade requirements, students must commit to attending the program two hours per day after school, Monday through Thursday, over a five-week period.
The fall session locations and times are:
Baker Career Academy, 4-6 p.m.
Atherton High School, 2:45-4:45 p.m.
Cathedral of Faith, 4-6 p.m.
International Academy of Flint, 4-6 p.m.
Southwestern Academy, 2:45-4:45 p.m.
The fall session is the first of four for the 2014-15 school year. Session 2 is scheduled for Nov. 3-Dec. 4, 2014, Session 3 is Jan. 12-Feb. 12, 2015, and Session 4 is Feb. 23-March 26, 2015.
TeenQuest is a five-week training program designed to help Genesee County youths prepare for success in the future. Through TeenQuest, students learn the basics of teamwork, business etiquette, work ethics, communication, goal setting and conflict resolution.
The program is also a pre-requisite for employment through the Summer Youth Initiative (SYI), which matches employers with TeenQuest graduates for summer employment. Nonprofit organizations and businesses that hire TeenQuest graduates are eligible to have 50 percent to 100 percent of costs subsidized.
For more information about TeenQuest enrollment, or to learn about hiring TeenQuest graduates, call Paula Stainbrook at (810) 600-1413.