Informational Session Planned for Feb. 4 for Companies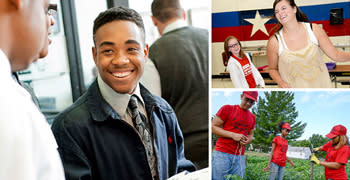 The invitations are in the mail for teens to attend an exclusive summer job fair. Now all that's needed are the employers to give them jobs.
The Flint & Genesee Chamber of Commerce is seeking companies interested in hiring graduates of its TeenQuest program for employment this summer.
TeenQuest is a pre-employment and leadership program for Flint & Genesee high school students ages 14-18. Graduates of the program are eligible to seek employment through the invitation-only Summer Youth Initiative (SYI) job fair.
SYI matches employers with hundreds of TeenQuest graduates for summer employment. Nonprofit organizations and businesses that hire TeenQuest graduates are eligible to have 50 percent to 100 percent of costs subsidized. For-profit businesses receive a 50-50 salary match for SYI employees.
"Our SYI employers consistently tell us that TeenQuest graduates are open-minded, well-prepared and hard-working," said Rhetta Hunyady, Vice President of Education and Training, Flint & Genesee Chamber. "They see the partnership the same way we do – as a win-win."
Companies and organizations can respond to a Request for Proposal (RFP) for 2015 work sites. An informational session will be held at 9 a.m. Wednesday, Feb. 4, at the Mott Dining Room in the Chamber offices in downtown Flint, 519 S. Saginaw St.
Those unable to attend the Feb. 4 session can request a private technical assistance meeting and review of their draft proposal. The RFP deadline is March 27.
TeenQuest is a five-week training program designed to help Flint & Genesee youths prepare for success. Students learn the basics of teamwork, business etiquette, work ethics, communication, goal setting and conflict resolution.
Past SYI employers have included schools, summer day camps, urban gardening and community beautification projects, general office settings, retail and food service.
Last summer, 617 youths ages 14-18 were employed through SYI, the Michigan Department of Natural Resources , the Workforce Investment Act (WIA) and some for-profit businesses.
For more information regarding SYI and hiring TeenQuest graduates, contact Hunyady at rhunyady@flintandgenesee.org  or (810) 600-1412.