Up to 250 Business-Trained TeenQuest Grads Will Seek Entry-Level Jobs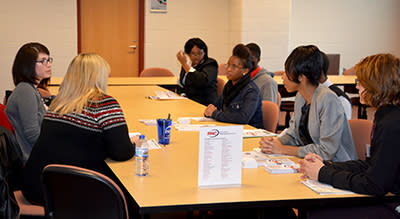 Employers looking to fill full- and part-time entry-level positions will have the opportunity to choose from hundreds of young adults at the Flint & Genesee Chamber of Commerce Job Fair on April 24.
Up to 250 graduates of the Flint & Genesee Chamber's TeenQuest program will be seeking employment at the invitation-only job fair at Baker College of Flint. Employers must register by March 27 to participate.
"If you are an employer who needs confident young adults trained in business etiquette for your full-time or part-time entry-level positions, this is the job fair for you," said Rhetta Hunyady, Vice President of Education and Training at the Flint & Genesee Chamber. "Our TeenQuest program alumni have successfully completed training that gives them a leg up on what it means to get a job and, more importantly, to keep one."
TeenQuest is a five-week training program designed to help high school students ages 14-18 prepare for success. Students learn the basics of teamwork, business etiquette, work ethics, communication, goal setting and conflict resolution.
While teenage graduates of the TeenQuest program traditionally qualify for the Summer Youth Initiative summer job program, the FGCC Job Fair connects business-trained 18- to 25-year-olds with permanent employment opportunities.
Last fall, more than 20 employers and 120 TeenQuest graduates participated in the Chamber's first-ever job fair of this type, connecting the graduates with permanent job opportunities.
The cost for employers to participate in the April 24 FGCC Job Fair is free for Flint & Genesee Chamber members and $100 for nonmembers. The $100 fee can be applied toward a new Chamber membership. To register, apply online at www.flintandgenesee.org/learn/job-fair-business-application/.
A second FGCC Job Fair will be held September 18; the employer registration deadline is August 28.
For more information about the FGCC Job Fair, contact Hunyady at rhunyady@flintandgenesee.org