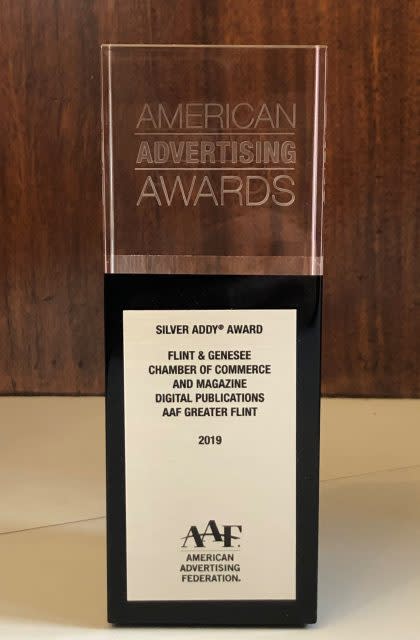 AND, the bimonthly business magazine of the Flint & Genesee Chamber, received a Silver ADDY Award for the publication's digital version (and.flintandgenesee.org) from the American Advertising Federation Greater Flint.
The AAF Greater Flint's "Evening of Excellence," held Feb. 22 at the Northbank Center, recognized the work demonstrated by Flint-area advertising professionals and students, and honored three individuals – the 2019 AAF Silver Medal Award recipient, Dale Keipert; the 2019 AAF Greater Flint Hall of Fame recipient, Lou Blessing; and the 2019 Hall of Achiever recipient, Dr. Nicole Wax.
The 2019 panel of judges for the competition were:
Matt Harlow, an engagement strategist at DJ Case & Associates, Mishawaka, Ind.
Scott Millen, managing partner and creative principal at 2 Fish Company, LLC, Zeeland, Mich.
Melissa Dunning, vice president of marketing at Aunt Millie's Bakeries, Fort Wayne, Ind.
AND reports on economic development, small businesses and entrepreneurs, talent initiatives, and other business topics. It also features articles on the area's business and community leaders, guest commentaries, and business trends that are impacting Flint & Genesee.