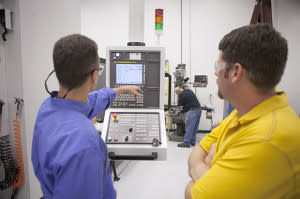 August 31, 2016
While Michigan's economy continues to gain momentum, there is still a challenge for companies to find talent with the skills they need. To address this issue, there's the Skilled Trades Training Fund (STTF), which provides competitive awards for employer-responsive training to enhance talent, productivity and employment retention.
Applications will be released by the state Sept. 12. GST Michigan Works! is asking that applications be submitted to them for first review by Oct. 5. Applying funds is a detailed process and must be done in partnership with Michigan Works!, said Dave Rose, STTF coordinator for GST Michigan Works!.
A webinar is scheduled for Sept. 7 from 10 a.m. to 12 p.m., to educate businesses about the process. To participate in the two-hour webinar, send an email to drose@gstmiworks.org. Rose will respond via email with a link to the webinar site.
"We work with businesses to ensure that the application is completed properly," Rose said. "It can take a week or two of back-and-forth communications with the business to make sure it's a sound package. A lot of things are not fundable and it is a highly competitive process."
Michigan Works! is responsible for submitting applications on behalf of all local partners to ensure all available funding (federal, state, private) is identified and used in a strategic, braided manner.
"Michigan Works! is also required to perform a fact-finding to understand the kind of training that is needed," said Rose. "We have to write a rationale about why we're recommending that a particular business receive funding."
Established in October 2013, the STTF continues to focus on assisting companies in meeting their talent challenges and, in doing so, helps increase the quality and competitiveness of Michigan's businesses. The fund ensures Michigan's employers have the talent they need to compete and grow, and individuals have the skills they need for in-demand jobs.
In 2016, seven businesses in Flint & Genesee received a total of $251,406 for STTF-supported programs.
STTF-supported programs must fill a demonstrated talent need experienced by an eligible participating business. The classroom training must lead to a credential for a skill that is transferable and recognized by the industry, and leads to permanent full-time employment or continued permanent full-time employment.
Funding for approved classroom and apprenticeship training can be paid to the business, or to the training institution, at the completion of training. On-site training with wage reimbursement for individuals to be hired will be paid to the business, consistent with approved documentation of the eligible costs.