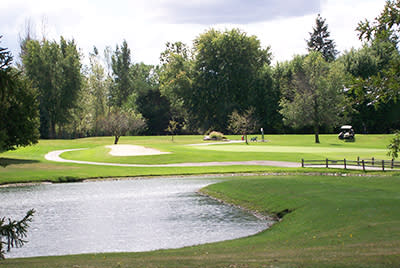 Golf courses, hotels and other attractions throughout Genesee County could see a boost in visitors this summer as the Flint & Genesee Convention & Visitors Bureau (CVB) has been on the road touting local greens to golfers in the U.S. and Canada.
The CVB recently courted golfers during golf shows in London, Ontario, and Toledo, Ohio. While the CVB has participated in the Ontario golf show for many years, this was the first year for a Flint & Genesee presence at the Ohio golf show.
"The golfers in Toledo were genuinely excited to see Flint & Genesee at the show," said Flint & Genesee CVB Director Cheryl DeFrain. "Most were unaware that our county offers about 20 golf courses. Golfers love the opportunity to play a different course. Whether they come here in groups of three or 30, they all have the same goal – to be challenged on the course."
The CVB often works with out-of-town golfers to bring them to Flint & Genesee. The CVB's portion of the Flint & Genesee Chamber of Commerce website, FlintAndGenesee.org/Visit, offers information about local golf courses, packages, special deals and hotel accommodations.
"It's not just the golf courses that see a boost in business when we raise awareness at golf shows," DeFrain said. "It's the hotels, restaurants, local attractions and more. Many of the golfers tell us that they bring their wives, and the ladies go shopping and sight-seeing while they golf. Then they all meet up in the evenings for dinner and nightlife. Our golf tourism is great for all types of businesses."
The Flint & Genesee CVB is a business group of the Flint & Genesee Chamber. The CVB supports Flint & Genesee for all tourism needs including, but not limited to, lodging, motor coach tours, conventions, sport activities, reunions, weddings, car shows and clubs and individual tourism.
For more information, contact the Flint & Genesee CVB at (810) 600-1404 or cdefrain@flintandgenesee.org.