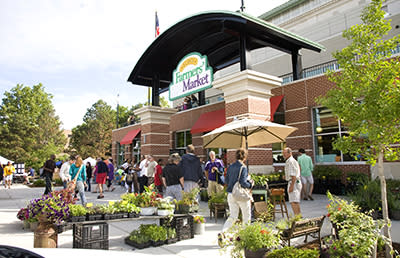 The Flint Farmers' Market
The Flint & Genesee Convention & Visitors Bureau (CVB) has a message for motor coach operators traveling through our region: Stop in and stay a while.
CVB staff had the chance to tout all the ways Flint & Genesee can accommodate motor coach tours when it met with more than two dozen tour operators recently.
"For some large groups, Flint & Genesee is just a pass-through point on the way to other parts of our state," said CVB Director Cheryl DeFrain. "We are working hard to change that. It's an awareness issue. We're taking our message straight to the motor coach operators so that they know about our restaurants, our hotels, our shopping and more."
The Flint Farmers' Market is an ideal host for bus groups, DeFrain said.
"The Farmers' Market, with its unique combination of restaurants and shopping, is a viable alternative to stopping at a McDonald's or mall food court," she said.
CVB staff met with 26 motor coach operators as part of the recent Heartland Travel Showcase in Chicago.
The Flint & Genesee CVB is a business unit of the Flint & Genesee Chamber. The CVB supports Flint & Genesee for all tourism needs including, but not limited to, lodging, motor coach tours, conventions, sport activities, reunions, weddings, car shows and clubs and individual tourism.
For more information, contact the Flint & Genesee CVB at (810) 600-1404 or cdefrain@flintandgenesee.org.