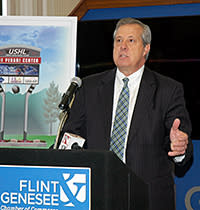 As the business world continues to evolve, we must change with it as appropriate.  However, our team at the Flint & Genesee Chamber fully understands one thing that remains the same for most businesses, and that's the need to increase profits -- whether that is through more sales, more efficient ways to deliver goods and services or simply increasing traffic into your stores. I want you to know that we are always looking for ways to help you do these things and maintain a strong business climate that enables businesses to prosper.
As I reflect on this past year, it is evident that we are seeing signs of a recovery: new investment projects are underway; employment is increasing; we're diversifying into new markets; enrollment is growing across our higher education institutions; downtown areas are growing - particularly downtown Flint; and we're improving health outcomes.
I am very optimistic that 2015 will allow us to build on the progress we've made in 2014. There's broad interest in doing business in Flint & Genesee, and I'm excited about what lies ahead for all of us.
In addition to our focus on creating a strong business environment, the Chamber has worked to evolve our internal culture and complete our 2015-2017 Strategic Plan.  As part of this effort, we have slightly modified our mission, created a vision and developed a set of internal core values, or operating principles. I am very proud of our team for their accomplishments. We are well-poised to seize opportunities and address the challenges before us.
While we always value your membership, it's at times like these that we are especially grateful.
If there is anything that I or our team can do for you, please don't hesitate to ask.
Thanks again for putting your trust in the Flint & Genesee Chamber, and happy holidays!
Tim Herman