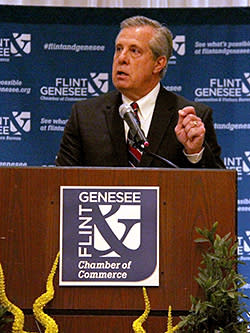 Tim Herman, CEO
I want to take this opportunity to thank everyone for coming out to celebrate with us. It means a lot.
It's the Flint & Genesee Chamber's time to share with all of you how we are working with our partners to improve the local economy and quality of citizen's lives.
Over 450 guests attended the meeting and learned about the Chamber's 2014 key results – some of which they were directly involved in.
Highlights of the meeting:
Announcement of FGCC's new Board Chair Bob Rummel, the Senior Vice President of Chase.
Indicators that Flint & Genesee is turning the corner, such as a lower unemployment rate, a more diversified business community and more jobs.
We shared measureable results that the Chamber achieved through collaboration and partnerships at the local, state and federal levels (Click here for our Annual Report).
An overview of downtown Flint's revitalization.
Keynote speaker Jeff Rowe, Executive Vice President, Operations for Diplomat, talked about the company's growth in Flint, how the community has supported them, and their perspective on the future of Flint and Genesee County.
Four awards were presented to business and community leaders. All four of these individuals are unique in their professional accomplishments but similar in their unwavering support of the community.

Robert P. Gerholz Award: Phil Hagerman, CEO, Diplomat
C.S. Mott Award: Dick Ramsdell, Manager, Flint Farmer's Market
Art Hurand Award: The Honorable Duncan Beagle, Judge, 7th Circuit Court
Ambassador Award: Eric Smith, MBA Admissions Representative, Cleary University
Without a doubt 2014 was a year of solid progress… we continued to move the region forward and in many ways became one of Michigan's success stories.
This year – 2015 – we are focused on our strategic goals and poised to lead the region toward increased investment, jobs, enhanced knowledge and skills of our community and improved perception of the area.
We appreciate your ongoing support and confidence in the Chamber team, and look forward to all that we will accomplish – together – throughout the year.
Thanks again.
Tim