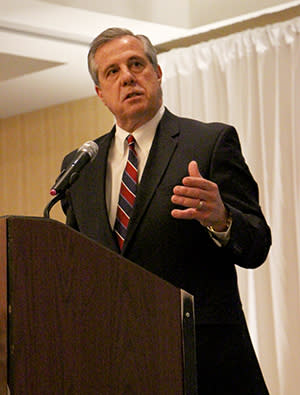 Tim Herman, CEO
A healthy downtown is key to a strong community, and with the recent announcement about the Capitol Theatre, we are taking a significant step forward to becoming more healthy and vibrant.
The Friends of the Capitol Theatre, a subsidiary of the nonprofit Uptown Reinvestment Corporation (URC), announced that it has signed a purchase agreement with Capitol Theatre Building LLC (Farah Family) to acquire the iconic Capitol Theatre building.
This is an exciting milestone in the Capitol Theatre journey made possible by the preservation work that has been done to date. For that, I want to thank Troy Farah and his family. They have been great caretakers of the Theatre over the years. They are providing Friends/URC with a great foundation on which to renovate. And they will continue to be involved.
While there will always be doubters, the response to the announcement was overwhelmingly positive.  The Theatre is one of our entities that taps into the hearts and minds of our residents and non-residents alike. People who learned of the plans began to talk about "what they were doing when…" and the great musical groups that played at the Theatre in its heyday.
Personally, I am very pleased to see the spirit that our community showed for this announcement and other great plans, such as the OHL Flint Firebirds and renovation of the Perani Arena.
The purchase agreement for the Capitol Theatre really is a major step forward and could be the tipping point for taking downtown Flint's resurgence to the next level. Those of us who are working on the funding plan envision restoring this community gem back to its historic glory and creating a modern entertainment venue for concerts, stage plays, comedy shows and other performance arts.
Downtown Flint is slowly yet steadily growing. The revitalization has been on the upswing for a decade now with buildings being renovated, lofts and other residential living being in high demand, and a diverse offering of restaurants and nightlife. Now, we're primed to add the Capitol to this exciting mix.
Make it a great day!
Tim