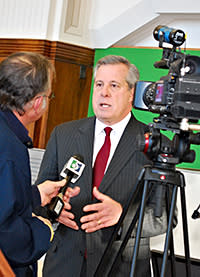 I'm sure many of you have read about or perhaps have experienced that there is a skills gap in Flint and Genesee County and throughout the state. Employers have open positions but cannot find employees with the necessary skills. And in fact, many job seekers recognize that they need more education or training to get the jobs that they want. While the skills gap is not new, it is growing, and it will continue to impact our economy and our standard of living if it is not addressed.
At the state level, Governor Rick Snyder cited this issue as one of his top priorities for his second term. Since then, he has created the Michigan Department of Talent and Economic Development, a new organization that will align more state job seekers with careers, and puts job training and economic development efforts under one department. Also, the governor has asked Michigan legislators for a 75 percent boost in funding for skilled trades training and career technical education with a goal to help fuel Michigan's economy.
Both moves are timely to our efforts to help close the skills gap in Flint & Genesee, and create a climate that fosters job growth and a talent base with 21st century skills.
Our Economic Development staff is working with our partners to help bridge the gap. They are collaborating with workforce development agencies, higher education, businesses and government on programs that will help match skills to open positions and re-train employees for other jobs. Once your hiring challenges are known, they can help you find, retain and grow your workforce.  And, in an effort to retain young college graduates in Genesee County, the ED staff encourages employers to offer internships and works to promote available jobs through traditional and social media, websites and word of mouth.
In addition, our Education & Training Group connects young job seekers with employers. Through our TeenQuest program, teens, ages 14-18 are taught employment and leadership skills, how to make a great and lasting impression, and other skills to help them be more employable.
Right now there are 1,540 jobs currently posted on mitalent.org by employers located within 25 miles of Flint. For those of you who may not be aware of mitalent.org, it is a state online marketplace connecting Michigan's job seekers to employers. These positions range from entry level to high-paying, skilled jobs. I'm asking that everyone who reads this column help spread the word and send those who are looking for jobs to mitalent.org.
Attracting talent, retaining talent and helping to develop talent is very important to helping Flint & Genesee move forward, grow and prosper. In every industry, employers are asking the same question: Where do we find the right talent for our changing organizations and how do we train our existing workforce? Our answer is work with us.  We have a great team with the right partners to help you realize your goals. Let us know how we can assist you.