November 4, 2015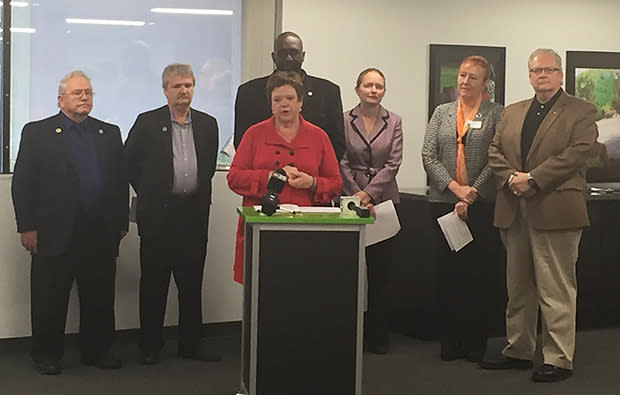 The eyesore on Pierson Road at I-75 will soon be no more, thanks to a collaborative effort to level the old Ramada Inn, which is located at one of Genesee County's main gateway corridors. The project will clear the way for redeveloping the property and returning it to the tax rolls.
The Flint & Genesee Chamber of Commerce on Oct. 29 joined with officials from Mt. Morris Township, the Genesee County Land Bank, the Genesee County Treasurer, the Genesee County Board of Commissioners and the Genesee County Metropolitan Planning Commission to announce the demolition of the vacant hotel.
Representatives from the Michigan State Housing Development Authority (MSHSA) and the U.S. Environmental Protection Agency (EPA) also spoke about the "all hands in" effort to secure the nearly $900,000 in funding needed to transform the site and return it to the tax rolls. The grants and monies will pay for environmental remediation, demolition and excavation of the property back to green space.
The structure will be down by mid-December, and the site cleared, graded and seeded by April 2016.
"The Pierson Road exit is a commercial gateway into our community on our northern border," said Janice Karcher, the Chamber's Vice President of Economic Development. "It delivers a powerful, first impression about the development potential and investor confidence here."
Karcher also said the building impacts the development prospects of the adjacent Liberty Business Park.
"With approximately 100 acres of land ready for development in phase two of the business park, we'll no longer have that large, blighted building standing in the way of growth."
The work will be funded by multiple sources, including: the Department of Housing and Urban Development's Community Development Block Grant monies from the county Metropolitan Planning Commission and Mt. Morris Township; Michigan Blight Elimination Grant from the Michigan Land Bank/MSHDA; Abatement Clean up Grant from the EPA; and the County Treasurer, Board of Commissioners and Land Bank.
"It takes strong partnerships to make projects like these happen," Karcher said. "And we at the Flint & Genesee Chamber are proud to have played an active role, too."
County Treasurer and Land Bank Chair Deb Cherry agreed. "We truly appreciate the support of all our grant funders and partners of this project.
"This collaborative effort will provide us the ability to transform this parcel into a valuable piece of property for redevelopment in our community."