(GRAND BLANC TWP., Mich. – Oct. 5, 2017)  Today, CNXMotionTM unveiled its new research and development facility where the company will develop advanced motion control systems and actuator components for automated driving.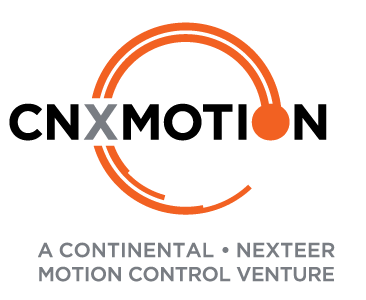 CNXMotion (pronounced: Con-Nex-motion) – a joint venture between Nexteer Automotive and Continental Corp. – is expected to bring 30 engineering jobs to the 19,000-square-foot facility in Grand Blanc Township. Jobs at the new venture will be transferred from offices in Auburn Hills and Saginaw, according to CNXMotion officials.
"CNXMotion will integrate state-of-the-art electronic brake and steering systems to achieve ideal vehicle dynamics and safety, particularly in the development of automated driving," said Kevin Burns, CNXMotion General Manager. "Through this complementary collaboration, our team will develop breakthrough ideas and systems that will focus on safety as we look toward the future of automated driving."
CNXMotion will focus on R&D activities, including rapid evaluation, design and prototyping. Nexteer and Continental hold an equal 50-50 percent ownership position in the joint venture.
The company also made a significant investment in an existing building on Embury Road to create an "innovative work space which is designed to give engineers a variety of areas to collaborate or work individually with the tools and resources needed to unlock the future," Burns said.
"We are very pleased to welcome CNXMotion to our community," said Grand Blanc Township Supervisor Scott Bennett. "It's a great addition to our expanding portfolio of technology firms that are located here."
Flint & Genesee Chamber CEO Tim Herman echoed those remarks, adding that CNXMotion is a win for the entire region.
"The automotive industry is in our bones," said Herman. "As the global industry continues to innovate, Flint & Genesee offers a world-class educational and transportation infrastructure for putting people and ideas in motion.
"I'm pleased that the Chamber's Economic Development team was able to the assist officials at Nexteer, Continental and Grand Blanc Township in establishing a new home for CNXMotion right here."
Learn more at CNXMotion.com.
ABOUT CONTINENTAL
Continental develops pioneering technologies and services for sustainable and connected mobility of people and their goods. Founded in 1871, the technology company offers safe, efficient, intelligent and affordable solutions for vehicles, machines, traffic and transport. In 2016, Continental generated sales of €40.5 billion and currently employs more than 230,000 people in 56 countries. www.continental-corporation.com/en
ABOUT NEXTEER
Nexteer Automotive – A Leader in Intuitive Motion Control – is a multi-billion dollar global steering and driveline business delivering electric and hydraulic power steering systems, steering columns, driveline systems as well as advanced driver assistance systems (ADAS) and automated driving technologies for original equipment manufacturers. The company's global workforce of over 13,000 serves more than 50 customers in every major region of the world. The company has 25 manufacturing plants, 3 regional engineering centers and 13 customer service centers strategically located in North and South America, Europe and Asia. Nexteer Automotive's customers include BMW, Fiat Chrysler, Ford, GM, PSA Group, Toyota, and VW, as well as automakers in India and China. www.nexteer.com