November 4, 2015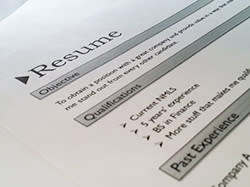 To extend the reach of its pre-employment training series, the Flint & Genesee Chamber of Commerce is bringing Career Edge to Charity United Methodist Church on Nov. 16-19.
The free workshop series is designed to help adults – particularly the unemployed and underemployed – prepare for the job market. Participants who complete all four courses will be invited to the Chamber's Job Fair in April 2016.
"Applying for a job can be an overwhelming experience, especially for people who have never been employed or haven't interviewed in quite some time," said Rhetta Hunyady, Vice President of Education & Training at the Chamber. "These workshops help participants understand how to approach each part of the job search process – from writing a resume to navigating the workplace after they've been hired."
The series consists of four, three-hour sessions, including:
Laying the Foundation: Focuses on attitude, business etiquette and communication. Offered Nov. 16 from 9 a.m. to noon.
Job Search Preparation: Includes resume development and job application completion. Offered Nov. 17 from 9 a.m. to noon.
Interview Preparation: An emphasis on types of interviews, skills assessment and role-playing. Offered Nov. 18 from 9 a.m. to noon.
Keeping a Job: Focuses on dependability, ethics, teamwork and sphere of influence. Offered Nov. 19 from 9 a.m. to noon.
As Pastor Brian Willingham notes, the partnership between the Chamber and Charity United Methodist is a "shot in the arm" for Flint's North End.
"It can be a challenge to get these type of resources to come our community, so we're excited to be able to offer this training at our church," Willingham said. "Employment is always a huge topic for (area residents). This is something we are very passionate about."
According to Hunyady, the goal is to make the program as widely accessible as possible throughout Flint and Genesee County. The Chamber is currently seeking to partner with additional area organizations and churches interested in hosting the training at their locations.
Agencies interested in collaborating with the Chamber on Career Edge should contact Paula Stainbrook at pstainbrook@flintandgenesee.org.
To register for the upcoming Career Edge series at Charity United Methodist Church, at 4601 Clio Road in Flint, click here or call 810-600-1413.