Technology Company Laird Challenges Suppliers, Doubling Donation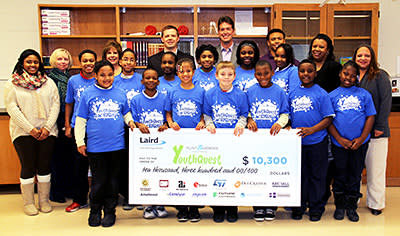 (FLINT, Mich., Dec. 11, 2014) – The Flint & Genesee Chamber of Commerce YouthQuest program received a $10,300 donation to support its STEM curriculum during an event Wednesday at Holmes STEM Academy in Flint.
The donation from technology company Laird and its suppliers will be used toward the purchase of science, technology, engineering and math (STEM) curriculum and STEM-based field trips throughout the community.
YouthQuest is a comprehensive, free afterschool program that serves more than 2,000 K-12 students in 18 area schools.
Laird donated $5,000 and then challenged its suppliers to match its donation, raising more than $10,000 total. The suppliers contributing to YouthQuest included U-Blox, Mid Star Sales, Raydiall, Catalyst Sales, Benskin & Hott, Trialon Corp., Albar Industries Inc., Future Electronics, Element, CHMP Inc., Dee Cramer, Aim Bright Cleaning, and Amphenol.
"This money will go toward vital curriculum that helps ensure the YouthQuest students are getting the best STEM instruction possible," said Rhetta Hunyady, Vice President, Education and Training, Flint & Genesee Chamber. "We've built a highly effective and relevant program for the youth of Flint & Genesee, and I think this donation helps validate that."
Steve Brown, Laird Senior Vice President and General Manager, was on hand to deliver the check during Wednesday's event. Laird's donation to YouthQuest is part of the company's social responsibility and commitment to this community, he said.
"At Laird, we know that a sound education will help the next generation of engineers develop the skills needed to change the world through innovation," Brown said. "We are proud to support the STEM curriculum for children and look forward to seeing what these students can dream up for the future."
YouthQuest reinforces learning that takes place during the school day by offering high-quality activities and services that encourage the exploration of new interests in the areas of STEM and the arts, and promotes academic achievement, physical fitness, youth leadership and volunteerism.
Laird is a focused electronics and technology company employing about 9,000 people in operations in North America, Europe and across Asia. It has local facilities in Holly and is headquartered in London.
For more information about YouthQuest, contact Hunyady at rhunyady@flintandgenesee.org or visit http://www.yquest.org/.
About YouthQuest
YouthQuest is a high-quality, research-based afterschool program offering educational and enrichment activities that engage young minds. Available at 15 sites in the city of Flint and Genesee County, YouthQuest serves 2,000 students in grades K-12 each year. The program is administered by the Genesee Area Focus Fund, a supporting organization of the Flint & Genesee Chamber of Commerce, with support from the Charles Stewart Mott Foundation and 21st Century Community Learning Centers. For more information, visit www.yquest.org.