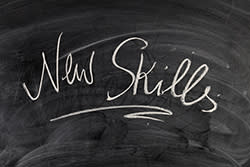 January 13, 2016
If you're looking to take advantage of professional development opportunities this year, the Flint & Genesee Chamber of Commerce is a good place to start. After all, the organization has nearly tripled its training sessions and workshops for 2016.
"Each year, we partner with local, regional and national business training professionals to provide our members and business community with relevant workshops and seminars," said Michelle Hill, Director of Shared Services at the Chamber. "This year, we've really increased those efforts and will be averaging at least one training opportunity a week."
According to Hill, the Chamber will release an in-depth catalog highlighting the workshops later this month. In the meantime, local professionals might consider attending one of the following sessions.*
Jan. 14: Mindfulness & New Year's Resolutions
Mindfulness is a powerful tool we can apply to help us enjoy life, bring awareness to our goals and deal with stress in a positive way. In this short session, participants will learn how to use mindfulness in the context of their New Year's resolutions. Attendees will learn about and try mindful eating, mindful breathing and mindful movement. Led by Tom Hauer and Jamie Florida, Program Manager and Educator/Evaluator, respectively, of the Crim Mindfulness Program.
Jan. 19: 10 Commandments of Networking
Have you ever wondered if the networking events you attend are worth your time? This session will help you answer that question by offering key tips for maximizing the value you get from attending mixers, speaker events, etc. Led by Tonya Acha, Owner of Referral Institute SE Michigan. Cost:  $25/session or $80 for entire series.
Jan. 20: Top 10 Employer Mistakes & How to Avoid Making Them
Failing to understand employment laws can expose employers to serious risk. This training session will cover some of the most common mistakes and misconceptions made in the areas of wage and hour laws, discrimination, discipline, recordkeeping and claims and liability. Led by Daniel B. Tukel, Shareholder at Butzel Long's Detroit office.
Jan. 21: Increase Sales with Email Marketing Automation
It doesn't matter if you represent a B2B or B2C company – the demands on your time and the complexity of getting more business have never been more difficult to manage. Learn how email marketing automation is helping businesses of all sizes and industries do more with less. Led by Dale Keipert, Partner at 3Sixty Interactive and Member of the American Advertising Federation of Greater Flint.
Jan. 26: How We Lead Matters
Knowing and understanding ourselves as leaders directly impacts how well we understand the people we lead. During this seminar, participants will learn techniques of meaningful leadership. They will also be introduced to attributes of self-efficacy, or the belief in oneself to achieve a goal. Led by Betsy Haigh, founder of Awaken Leadership Center. Cost:  $40/session or $150 for entire series.
Jan. 29: January Jumpstart: Motivation and Goal Setting
Motivation plays a key role in our ability to be productive, but what happens when you run out of steam? This seminar will cover SMART personal fitness and wellness goals, stress-free exercises and tips for getting through the days when you lack motivation. Led by Jessica Robinson, Nutrition Program Coordinator for the Crim Fitness Foundation.
Feb. 2: Fostering a Healthy Workplace Culture – For You and Your Team
A healthy workplace is just as important for your company as it is the individual employees. This session will provide an overview of how to establish and maintain a healthy workplace culture. Led by Alisa Craig, Administrator of Wellness and Population Health Management at Hurley Medical Center.
*Sessions are available at no cost to attendees, unless otherwise noted.