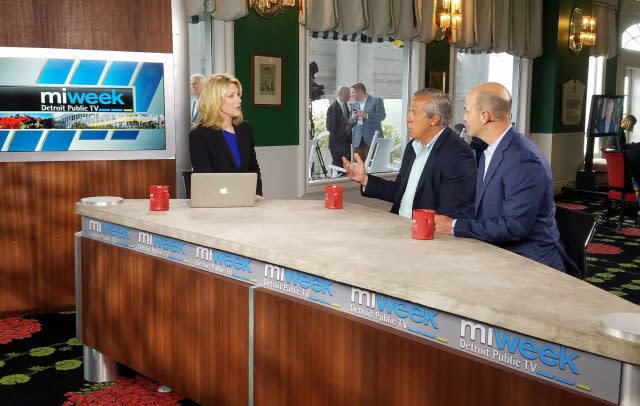 The 2018 Mackinac Policy Conference offered thought-provoking sessions about issues that are critically important to the state of Michigan and Genesee County.
Three pillars set the stage:
First, Is Michigan Prepared? Discussion focused on ensuring Michigan's competitiveness for major business investment by protecting the existing business climate and addressing issues preventing sustained prosperity for all.
Second, The Mobility Disruption. It's all about strengthening Michigan's readiness for the disruption that next generation mobility will create for industry and society.
And third, Trust. How will the state restore confidence in the critical institutions of government, media and business to build trust in our society.
These pillars laid the foundation for great panel discussions, as well as professional interactions and media interviews.
When I spoke with media, I had the opportunity to talk about the great people of Flint & Genesee. About our resilience, and love for our city and the broader region. We talked about Flint's rebound. That we have solid fundamentals in place to attract investments and jobs, create economic stability and growth and improve quality of life. We also talked about the increasing importance of tourism to our local economy and how Flint & Genesee is expanding its automotive footprint to form a cluster of companies that are focused on self-driving vehicles. There was so much to tell them and not enough time. But I can tell you that these conversations always help us tell a more holistic story -- one that includes our challenges AND where we are making exceptional progress.
Once again, I really enjoyed the conference. I gained great insights and information from some of the brightest minds across Michigan and the nation.  So, staying with tradition, I developed a short list of key takeaways that I want to share with you. You may want to review the list to see if there's application to you and/or your business.
Reduce the opportunity gap and enhance the quality of life for Flint & Genesee residents and Michiganders by promoting economic inclusion strategies.
The bedrock of economic development is a prospering workforce, talent, infrastructure and quality of life.
Employing disadvantaged groups begins with Flint & Genesee schools, and community and business leaders working together.
Infrastructure funding should not be thought of solely as fixing and repairing, but also in terms of competitiveness. Michigan is at the forefront of autonomous vehicle development but does not have the roads or broadband internet across the state to support widespread rollout. How are we doing in Flint and Genesee County?
Diversity is where you count people. Inclusion is where people count.
As always, I'm interested in some of the issues that our members are facing, and importantly, how the Chamber can help address these issues. Our door is always open. Stay in touch!
Tim