The deadline for entries in the I-69 Thumb Region's 2018 Catapult Small Business Competition has been extended to Dec. 31 in Genesee County. This contest of ideas aims to help "catapult" entrepreneurs and small-business owners to the next stage in growing their businesses.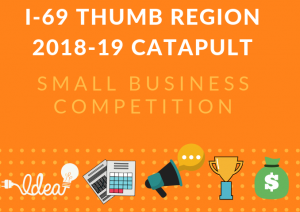 Each of the region's member counties – Genesee, Huron, Lapeer, Sanilac, Shiawassee, St. Clair and Tuscola – will hold a county-level competition in their communities via a public pitch event, with $2,500 awarded to the first-place winner and $1,500 for second place. Total cash prizes for the local and regional winners total $40,000.
Genesee County will host its competition Jan. 10 from 5-8 p.m. at the Ferris Wheel, 615 S. Saginaw St. in Flint. County-level first-place winners will move forward to compete for additional funds in the finale at the I-69 Thumb Regional Summit on Jan. 24.
The regional competition will award $6,000 for first place, $4,000 for second and $2,000 for third. Competition prizes have been made possible by grant funding through the Michigan Economic Development Corp. and additional sponsors.
Interested companies or individuals may apply online by answering a few questions about their proposed new business venture or existing business. To apply online, visit http://i-69thumbregion.org/event/2018-catapult-small-business-competition/.
Once the online application is complete, competitors have until Nov. 1 to submit their maximum three-page executive summary and pitch presentation of up to 10 slides. The Michigan Small Business Development Center and local economic development organizations will provide support to applicants in need of technical assistance, help writing the required executive summary or presentation coaching.
For more information about how to apply, please visit: http://i-69thumbregion.org/event/2018-catapult-small-business-competition/. You may also contact Tracy Joseph at the Flint & Genesee Chamber at (810) 600-1406 or tjoseph@flintandgenesee.org.