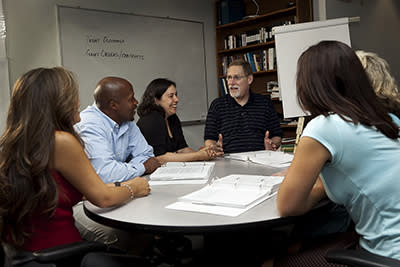 September 23, 2015
The Flint & Genesee Chamber of Commerce is seeking local organizations and churches interested in hosting pre-employment training for unemployed individuals in the community.
The Career Edge workshop series addresses all aspects of the job-search process and is available at no cost to host-organizations or those in attendance.
"We want to make this program accessible to the people who need it most," said Rhetta Hunyady, Vice President of Education & Training at the Chamber. "What better way to do that than by partnering with local organizations that are already working with the unemployed? Let's take the program to the participants."
The Chamber will provide facilitators to lead the workshops series, which consists of four, three-hour sessions that cover all aspects of the job-search process. These include:
Laying the Foundation: Focuses on attitude, business etiquette and communication.
Job Search Preparation: Includes resume development and job application completion.
Interview Preparation: An emphasis on types of interviews, skills assessment and role playing.
Keeping a Job: Focuses on dependability, ethics, teamwork and sphere of influence.
While Career Edge doesn't guarantee job placement, it does offer participants the opportunity to learn critical skills, such as writing a targeted cover letter and a general understanding of business etiquette. And in some cases, it just gives job seekers the confidence they need to put themselves out there.
"We recently heard from two participants who were so inspired by the first session – which highlights the importance of attitude and goal setting – that they submitted their applications to several local employers," Hunyady said. "They both secured employment at a nearby factory within a matter of a few days."
Career Edge launched in August and, thus far, has held workshops at the Chamber as well as Baker College of Flint's Engineering & Technology Center, Grace Emmanuel Baptist Church, New Creation Church of God, Word of Life Church and Ebenezer Ministries' Community Center.
Agencies interested in collaborating with the Chamber on Career Edge should contact Paula Stainbrook at pstainbrook@flintandgenesee.org.  
For more information about Career Edge, click here.