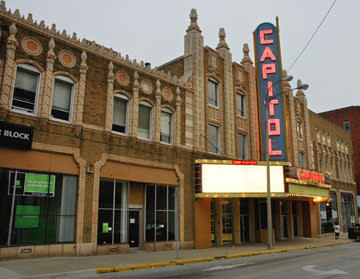 July 20, 2016
With the acquisition of the Capitol Theatre complete, restoration of the historic structure at Second and Harrison streets is well underway.
The Whiting on July 21 is hosting a free community event at the Capitol Theatre to mark the start of the multi-million renovation project in downtown Flint. It also the kickoff event for the Revival & Renewal Campaign for Live Performing Arts, which includes restoration of The Capitol Theatre and upgrades for The Whiting.
The news conference begins at 4:30 p.m. under the Capitol's marquee on Second Street. Speakers include Jarret Haynes, Executive Director of The Whiting; Flint Mayor Karen Weaver, Steve Arwood, CEO of the Michigan Economic Development Corporation; and Tim Herman, President of Uptown Reinvestment Corporation.
Following the news conference, building tours will be conducted until 8 p.m. Light refreshments will be provided along with entertainment during the course of the evening.