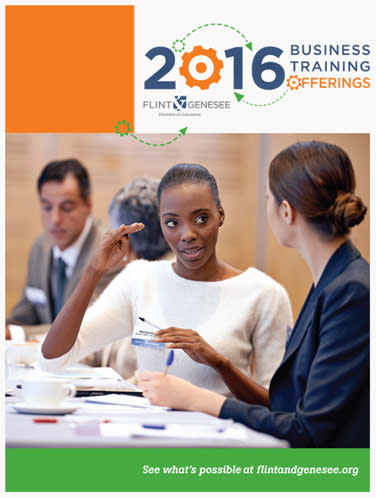 June 8, 2016
The Flint & Genesee Chamber of Commerce has a variety of workshops and training available this month. The offerings range from personal enrichment to professional development.
Religious and Disability Accommodation in Today's Workplace (June 15) When it comes to religious practices and disabilities, employers are legally required to take affirmative steps to accommodate employees.  This session will discuss the obligations employers have to accommodate, discuss the steps to be taken in determining how to accommodate, and the circumstances in which employers may permissibly deny accommodations which are requested.
Practice Makes Perfect (June 21) We've long been taught that practice makes perfect. But what happens when our efforts toward perfect fail us? When we pivot, and create a deliberate movement in the development of concept, ideas or relationships between objects or people, we elect to redesign our surroundings for an alternate outcome. Learn more about intentional observation and the reshaping of your business landscape.
MI Hidden Talent Workshop (June 21) This new statewide training workshop will assist business owners and leaders with the training and resources needed to implement these hiring practices in their businesses.  This workshop is designed for businesses who want to hire people with disabilities.   Certified Tourism Ambassador Class (June 23) Become an ambassador for Flint & Genesee by learning about the power of tourism; understanding the region's history and attractions; finding and using local resources; and exceeding customer expectations. Upon successful completion, participants will earn the Certified Tourism Ambassador designation and receive a CTA certificate and lapel pin. (REGISTRATION DEADLINE: JUNE 9)   Coggno Online Courses (Rolling) In partnership with Coggno, the Chamber offers more than 1,000 training courses for employee development and certification in a variety of categories, including human resources, business management, communications and more. Courses are available 24 hours a day, seven days a week, and can be accessed through an employee's workstation, home computer or mobile device.
For the complete 2016 Business Training Catalog, click here.