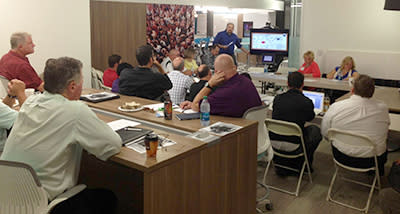 The beginning of the year is often a time of reflection and projection. Businesses and their employees reflect on accomplishments of the previous year to determine which practices to continue, and begin to plan for the next year. Although this can be a reassuring time for some, it can be a difficult time for others.
The Flint & Genesee Chamber of Commerce's Shared Services team knows what it is like for businesses to have the challenging tasks of reflection and projection lying before them, and each year the team helps Chamber members do both to reach their full potential and the success they desire.
Michelle Hill, Chamber Business Development Manager, is one of several individuals working closely with Chamber members. "At the Chamber, we have embraced the idea of continued learning," says Hill. "We believe that ongoing professional development is critical for companies to take their businesses to the next level. Because of this, the Chamber offers a training infrastructure that can help companies and their employees grow successfully."
Training efforts offered to help support Chamber members include "MLive Lunch & Learns" that consist of speakers who teach subjects such a social media for business, digital marketing, as well as several other unique and emerging business practices. Shared Services also offers a leadership program known as Leadership Alliance, which provides insight on best practices for businesses to increase efficiency and effectiveness.
George Wilkinson, Director of Shared Services and Operations for the Chamber, is looking forward to assisting businesses and individuals with their professional development goals. "If you have a new business, but lack the resources to grow your business as you would like to, this is the perfect time to invest in becoming a member of the Chamber and take advantage of what the Chamber has to offer."
To learn how you and your business can benefit from various training programs offered through the Flint & Genesee Chamber, contact Michelle Hill at mhill@flintandgenesee.org.