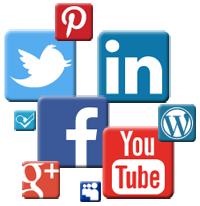 Twitter, Facebook or LinkedIn… Wherever you are, you can find the communities of the Flint & Genesee Chamber of Commerce as well as Flint & Genesee community sites and blogs such as SEE & Be Seen, See what's Possible and Trending Flint & Genesee.
But let's talk about you. Is your business on social media? If so, bravo! Be sure to connect with the Chamber on our platforms. Check us out at the Social Hub on our website.
If your business is not on social media, we hate to tell you but, you're missing out on a LOT! Like what? Let's review a few examples:
Increase brand awareness. When used effectively, social media can help businesses increase brand awareness. Allows you to show your unique personality and show customers and potential customers what you stand for, what's important to the company and your employees, and of course, your products and services.
Extend the reach of your public relations and marketing efforts. Social media networks allow you to reach people through channels that you may not be able to through traditional media outlets or advertising efforts.
Increase sales. Everything has to come back to sales and revenue, right? Well social media can help with that too. First of all you can target audiences, which is a huge benefit by itself. Some experts suggest that by increasing awareness it's bound to lead to sales. You can also lead customers to the purchase funnel in other ways. Write posts that link to content about your products and services. Marketers also use the tool for promoted content and advertisements to sell products and target audiences who are not "fans" or "followers" of their brand yet.
Enhance customer service. Frequently ask your customers for feedback. Also, provide a channel for customers to ask questions and resolve problems. This process, however, needs to be as seamless and customer-friendly as it is in person or over the phone. Keep the process simple and timely.
Use as a recruitment tool. As brand awareness increases, businesses can use social media as a method of sharing job openings and recruiting potential employees. Use your brand messaging, look and feel to communicate what it's like to work for your company.
There are many other reasons for businesses -- large and small -- to have a social media presence and engage regularly with their audiences.
Learning about social media and the value it can bring your business should be integral part of your overall public relations and marketing goals as well as to your business plan. Focused efforts will increase your success.
We hope you get started soon!