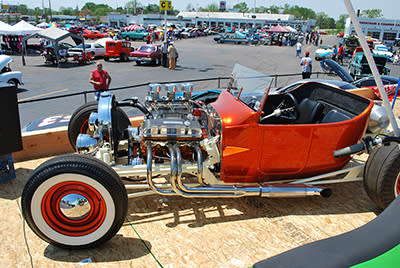 May 18, 2016
Car and motorcycle lovers of all ages are invited to the seventh annual Baker College of Flint Car and Motorcycle Show on May 22, from 9 a.m. to 3 p.m., at Baker College's Center for Transportation Technology (CTT), 1717 S. Dort Highway.
"This event showcases Flint's century-long automotive legacy, and people come from all over to exhibit their vehicles and admire those on display," said Phillip Whitmer, Baker College of Flint Dean of Transportation Technology. "For our CTT students, the day is also a special opportunity to show off their hard work."
The public is invited to experience the cars and motorcycles, enjoy music, visit vendors and join on-going tours of the CTT facility at this free event.
This year Baker College CTT students will display a 1941 Dodge truck and a 1974 Ford Bronco that they restored. Also on display will be a 1969 Chevrolet Impala currently under restoration by Baker College students.
In previous years, more than 350 cars and motorcycles have been displayed, among them were a 1911 Whiting, a 1923 T Bucket, a 1940 Ford coupe, a 1942 Harley Davidson, and a 2013 Mustang and 2014 Hyundai upgraded and renovated by Baker College of Flint students. Clubs, such as the Northeastern Michigan Chapter of the Studebaker Drivers Club, have brought multiple cars to previous events.
For the 2016 event, Baker College will provide awards for the top 25 cars, the top-10 motorcycles, President's Choice, Dean's Choice and Best of Show. Car clubs with four or more vehicles registered will receive a plaque in recognition of their participation.
There is no cost to enter vehicles in the show and those wishing to exhibit their cars and motorcycles can register 9 a.m. to noon on the day of the event. The first 100 entrants receive a goodie bag and dash plaque.
There also is no charge for vendors to have a booth at the event, however they must pre-register by contacting the CTT at showinfo@baker.edu or 810.766.2260.