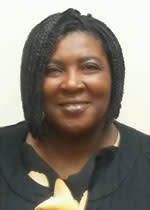 June 8, 2016
Wannetta Reid, of Flint, is the recipient of the 2016 Ed Kurtz Leadership Scholarship at Baker College of Flint.
The $2,500 scholarship is awarded annually to a Baker student who demonstrates academic achievement, and either a commitment to community service or a successful balance of work, family and school obligations.
"Wannetta is deserving of this honor by giving back to her family and community while moving her education and career forward," said Wen Hemingway, President of Baker College of Flint. "It is this dedication to serving others that makes her such a great role model, mom, student and volunteer."
Reid has persevered through several challenges to reach her goal of a bachelor's degree in early childhood education.
She earned an associate degree between 2003 and 2008, and began work on a Bachelor's at Baker College in 2012. She plans to graduate in March 2017. She has a 3.9 GPA.
Although her educational pursuit and the welfare of her children play significant roles in her life, her commitment to her community is also very important to her. Reid volunteers at Food Outreach Ministries' monthly food and clothing giveaways at her church where she also sings in the choir and teaches Sunday school, allowing her to work closely with children.