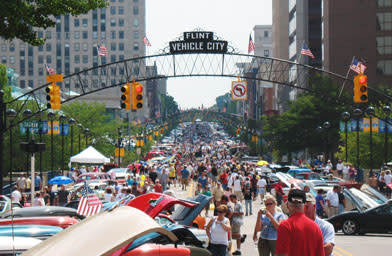 August 10, 2016
The region's two largest events of the year happen this month in a show of hometown pride, heritage, and a commitment to fitness and wellness.
Whether it's by automobile with Back to the Bricks, bicycle with the Assenmacher 100, or on foot with the HealthPlus Crim Festival of Races, the end of summer doesn't go quietly in Flint & Genesee.
Each year, Back to the Bricks attracts more than a half-million car enthusiasts to Flint & Genesee to celebrate our love of the automobile and the area's historic role in the automotive industry. The main event is preceded by a series of tune-up parties and promotion tours – which began this week – to whet your appetite for the main event day on Aug. 20 in the heart of Flint.
"Back to the Bricks is an outstanding event that draws huge crowds of people from the local area, the state and across the country," said DeAndra McCain, Director of the Flint & Genesee Convention and Visitors Bureau. "The large attendance and the spending that occurs provides a significant economic impact for our local economy.
"Back to the Bricks is also a great, big party for our community.  That's why everyone wants to get involved. It's terrific!"
If it's two-wheel transportation that gets you moving, then the Assenmacher 100 may be the event for you. It is a recreational and social fun bicycle ride through the farmland and villages of mid-Michigan.
The Assenmacher 100 has been around since 1980 and has become one of Michigan's premier century rides. Held each year on the third Sunday in August, it also has been endorsed by the Governor's Council on Physical Fitness, Health and Sports. With routes of 20, 34, 56, 66, and 100 miles, there are courses for experienced cyclists as well as the casual rider.
The last weekend of August is when you park your cars and bicycles, and hit the bricks on foot for the Crim Festival of Races. This year, the streets of Flint will be even-more jammed packed with runners and walkers from all over, as the Crim celebrates its 40th anniversary on Aug. 25-27.
The Festival of Races is headlined by the renowned 10-mile road race, which attracts elite runners from around the world. It also features shorter distances of 5K and 8K for runners and walkers. There's also the Michigan Mile Race Series on Friday night, including the USATF Masters events for men and women.
The race action concludes on Saturday afternoon with the quarter-mile Teddy Bear Trot for children, ages 0-12.
"Here in Flint & Genesee, we love the outdoors and being active. And we love to compete," said McCain. "August features some great events for visitors to experience our community in fun and interesting ways."