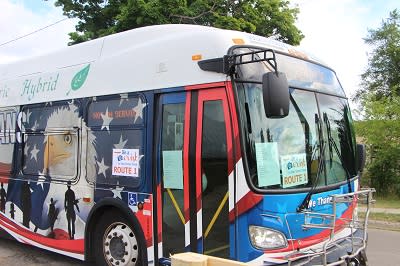 August 10, 2016
"Be a Tourist in Your Home Town" set an attendance record in 2016, with an attendance up by more than 5 percent over last year.
Now in its fourth year, the July 16 event drew a 1028 participants compared 978 in 2015. Tourists had a choice of more than two dozen venues to visit all for $1, with complimentary transportation provided by the Mass Transportation Authority. Local residents participating in the event were also joined by visitors from Florida, New York, Texas, Virginia, Ontario, Mexico and Jamaica in touring the community.
"We're very that the attendance for Be a Tourist has grown each since it began four years," said DeAndra McCain, Director of the Flint & Genesee Convention and Visitors Bureau. "We're already looking forward to next year's campaign so that more people can experience the wonderful things we have here."
Participating venues: Applewood Estate, Buick Gallery and Research Center, Dryden Building, Edible Flint Demonstration Garden, EmFloower, Flint Children's Museum, Flint Farmers' Market, Flint Handmade Summer Arts & Crafts Street Fair, Flint Institute of Arts, Flint Public Library, Food Bank of Eastern Michigan's Hunger Solution Center, For-Mar Nature Preserve and Arboretum, Frances Willson Thompson Library & Genesee Historical Collections Center, Genesee County Gospel Festival, Greater Flint Arts Council, Knob Hill Bed & Breakfast, Longway Planetarium, MTA Downtown Transportation Center, Michigan School for the Deaf, MW Gallery, Sloan Museum, Stockton Center at Spring Grove Museum, Superintendent's Cottage, Totem Books, Whaley Historic House Museum and The Whiting.