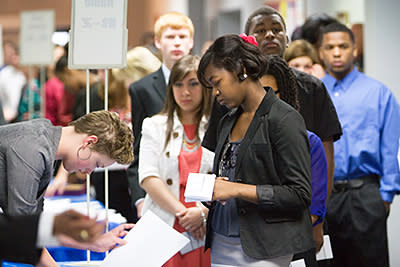 (FLINT, Mich. April 21, 2014) -- YouthQuest will hold a Job Fair Wednesday and Thursday, May 7 and 8, from 9 a.m. to 5 p.m., at Word of Life Christian Church, 460 West Atherton Road, Flint, to fill positions for site team leaders, site administrative assistants and learning guides for its 2014 summer program and the upcoming school year after school program.
YouthQuest, one of the area's most exciting and comprehensive free afterschool programs, is a program of the Flint & Genesee Chamber of Commerce. The program provides the support students need to excel, new experiences to excite their imagination and an opportunity to explore the world.
The 2014 summer program runs from June 23 to July 18. The after school program begins Sept. 8 and runs through May 28, 2015.
"We are looking for people who are passionate about providing children with an enriching and engaging learning experience," said Sharri Newman, YouthQuest Program Director. "We need people with a variety of skill sets from fine arts to science to sports."
The Job Fair is by invitation only, applicants must complete an on-line application for review by May 1 at http://www.yquest.org/work-for-us/job-opportunities. Pre-qualified candidates will be invited for an information session and to schedule an interview time at the job fair May 7 or 8.
Ideal candidates will have the following skills:
Experience working directly with youth and families
Excellent time management and classroom management skills
Experience with Microsoft Office
Ability to manage multiple priorities
Be detail oriented
Have a strong work ethic
YouthQuest is a free, innovative afterschool and summer enrichment program for K – 8 youth at multiple sites throughout Genesee County. For more information, visit http://www.yquest.org/.
About YouthQuest
YouthQuest is a high-quality, research-based afterschool program offering educational and enrichment activities that engage young minds. Available at 15 sites in the city of Flint and Genesee County, YouthQuest serves 2,000 students in grades K-12 each year. The program is administered by the Genesee Area Focus Fund, a supporting organization of the Flint & Genesee Chamber of Commerce, with support from the Charles Stewart Mott Foundation and 21st Century Community Learning Centers. For more information, visit www.yquest.org.