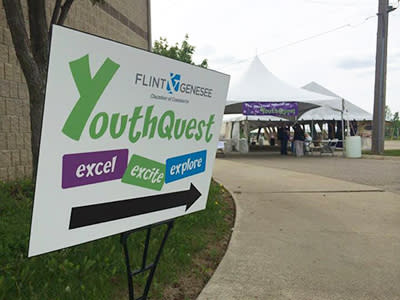 Flint middle and high school students still have time to enroll for six weeks of exploration and adventure – all at no cost -- as YouthQuest gears up for its Summer on the Road program.
On Mondays through Thursdays from June 22-July 30, YouthQuest middle and high school students will have the opportunity to experience the best Michigan has to offer. The program runs from 11:30 a.m.-4:30 p.m., kicking off with daily lunches at the Word of Life activity center in Flint before hitting the road.
"Summer on the Road is like our school year program on steroids – field trips, career exploration, STEM education and, of course, fun," said Rhetta Hunyady, Vice President of Education & Training at the Flint & Genesee Chamber of Commerce. YouthQuest is administered by the Chamber and generously funded by the Charles Stewart Mott Foundation and the U.S. Department of Education's 21st Century Community Learning Centers.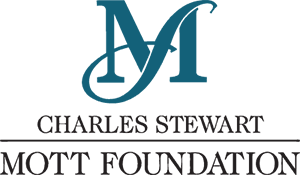 Currently, 85 students are registered for YouthQuest Summer on the Road. Up to 125 students will be accepted through June 22. Any student enrolled in Grades 7-11 at Flint's Northwestern or Southwestern middle/high schools, or the International Academy of Flint middle school, can enroll in Summer on the Road, even if the student didn't attend the YouthQuest program during the school year.
YouthQuest is a comprehensive, free afterschool program that serves K-12 students throughout Flint Community Schools, in Carman Ainsworth, and at the International Academy of Flint. Summer on the Road is for middle and high school students. Elementary students will participate in the traditional YouthQuest site-based program.
Each week throughout the Summer on the Road program will feature a different theme, such as "Talk Nerdy to Me" (college tours throughout the state), "For the Love of the Money" (career exploration trips), and "Pure Michigan" (discovering Michigan-made products).
During "Big Bang Theory" week, the students will take trips that bring to life Science, Technology, Engineering and Mathematics (STEM) education through trips including the Mott Community College Fab Lab in Flint, Michigan Engineering Zone ("The MEZ") in Detroit, and the Robot Garage in Birmingham.
"Hobby Lobby" week might seem the simplest of themes compared to some others, but for many students, it might also prove the most meaningful.
"We have many students already registered who have never learned to swim or gone fishing, and we're going to provide those opportunities," YouthQuest Director Sharri Newman said, adding that other activities during hobby week will include scuba diving, sailing in Bay City, and a big-wheel obstacle course at Groveland Oaks park.
Another first for most students will be seeing the Mackinac Bridge. They'll get to do that in Week 6, when YouthQuest Summer on the Road wraps up with a trip to Mackinac Island.
"Most of our YouthQuest students have never seen the bridge or a lighthouse. They know very little about our Great Lakes. These are experiences that most of us take for granted," Newman said. "We could have chosen trips outside of Michigan, but what we're finding is that so many firsts for these students happen right here close by."
The students will also perform service learning projects throughout the six weeks, including building a new sandbox at the program's home base, Word of Life. Students will be in charge of every aspect of the project, including budgeting, design, materials and supplies, and labor.
To register for YouthQuest Summer on the Road, students can sign up at participating school sites, online at yquest.org, or at the Flint & Genesee Chamber of Commerce, 519 S. Saginaw St., Suite 200, downtown Flint.
YouthQuest employs programming strategies that nurture the development of skills and traits that lead students to post-secondary education and/or sustainable wage and growth opportunities.
For more information about YouthQuest, contact Hunyady at rhunyady@flintandgenesee.org.