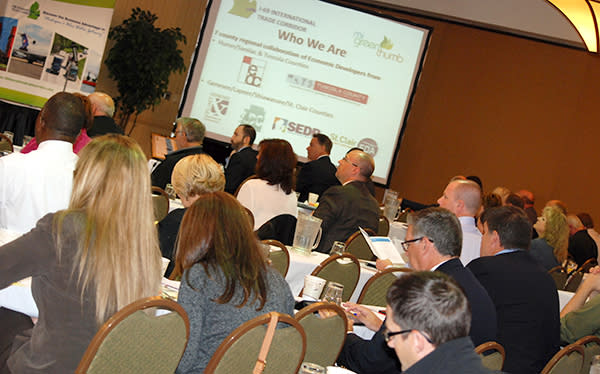 September 2, 2015
Real estate, talent, agribusiness and regional opportunities will be highlighted as the I-69 Thumb Region hosts its 4th Annual Regional Summit.  The event takes place on September 23 from 7:30 a.m. to 11:30 a.m. at the Holiday Inn Gateway Centre in Flint.
The half-day Summit is designed to provide businesses, government and residents with information about growth opportunities and strengths of the region.  The Summit is expected to draw between 175-200 attendees.
This year's event has added an expert panel on real estate development in the I-69 Thumb Region. The discussion will highlight development trends, and what communities and regional partners can do to capture new investment, including food processing and other industrial and heavy commercial development. Kurt Brauer, who chairs the Agribusiness and Food Industry Group for the law firm Warner Norcross & Judd LLP, will serve as a panelist.
"The real estate panel is new for our Summits," said Janice Karcher, Vice President of Economic Development for the Flint & Genesee Chamber of Commerce. "It's one that really helps spotlight how we're growing investments and jobs. Now, we are focusing on how we can expand our site inventory to continue growing the regional economy."
Other expert panels will focus on talent and agribusiness opportunities for the I-69 Thumb Region. Jamie Clover-Adams, Director of the Michigan Department of Agriculture & Rural Development, will serve as a panelist on agribusiness and will be joined by a representative from Star of the West Milling Co., a grain milling firm based in Frankenmuth.
"In the area of talent, the attendees will hear about some of the creative solutions that regional companies have used to attract and retain employees," said Karcher.
Exporter of the Year awards will be presented to businesses from throughout the seven-county region who are taking their locally produced products and services beyond the boundaries of the U.S. in a notable way.
Those who would benefit from attending the Summit include regional businesses, educators, government officials and community stakeholders.
There is no cost to attend the Summit, however registration is required.  To register, visit https://www.flintandgenesee.org/events/4th-annual-summit/ . For more information contact Julie Hipps at jhipps@flintandgenesee.org or (810) 600-1429.
The I-69 Thumb Region is a partnership of the Flint & Genesee Chamber of Commerce, Shiawassee Economic Development Partnership, Lapeer Development Corporation, Economic Development Alliance of St. Clair County, Sanilac & Huron County Economic Development Corporation and Tuscola County Economic Development Corporation.