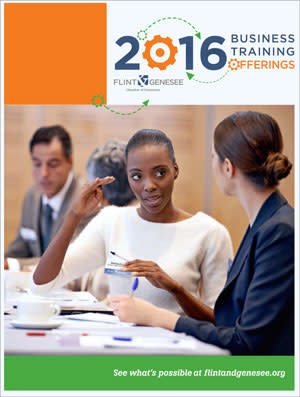 April 6, 2016
Considering that professional development ranks as a top driver for employee engagement (especially among Millennials), offering training opportunities is critical to retaining talent.
One way to do this is through the Flint & Genesee Chamber of Commerce, which provides relevant and timely workshops for the local business community throughout the year.
"A business' most valuable resource is its employees," said Michelle Hill, Director of Shared Services for the Chamber. "It pays to invest in them."
The Chamber offers multiple workshops and seminars each month, many of which are free to attend, said Hill. Next month, these sessions include:
April 12: Social Security Benefits Basics
A successful retirement requires a good strategy and thoughtful planning. This series considers the financial and retirement planning process from the perspectives of both the individual as well as the employer.
April 13: ZingTrain: How to Improve – Zingerman's Path to Lean
This workshop will explore how Zingerman's leadership has applied the concepts of lean thinking and continuous improvement at the Ann Arbor-based company. Attendees will also learn how these methods can be applied to improve systems in their own organizations and businesses.
April 14: Diversity & Inclusion: Inclusive Business Strategies and Customer Service
Relevant ideas are the currency of today's successful organizations. But organizations are only as innovative as their ability to leverage the differences within their workforce. This engaging and thought-provoking session, offered in partnership with United Way of Genesee County, will challenge leaders to assess their current organization and consider news ways of seeing their workforces.
April 19: Referrals for Life Series: 5 Steps to Referral Success
Strengthen your referral relationships by learning the basics of creating proactive and consistent referrals. This workshop will walk attendees through the steps of finding the right referrals sources and building long-lasting relationships.
April 21: Radio Advertising 101
Ever considered advertising on the radio, but thought it may be too expensive, or maybe you weren't sure about how to create a radio spot?  Learn about how simple radio advertising can be. Topics include the benefits of radio advertising, cost, creative ideas and spot production, as well as station options here in the local market.
April 26: Leadership That Matters: Awaken the Potential of Your Business
By unleashing the potential of those we lead, we unleash the potential of our businesses to grow and expand. Learn about the importance of encouraging innovation and initiative among those you lead.
Looking for something beyond the aforementioned offerings? Check out the online training courses available through www.flintandgenesee.org/coggno. Courses are available 24 hours a day, seven days a week, and can be accessed through an employee's workstation, home computer or mobile device.