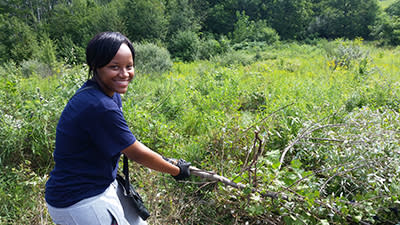 June 29, 2016
Thanks to a $438,000 grant from the Michigan Department of Natural Resources, the Flint & Genesee Chamber of Commerce will hire about 140 teens and place them with Genesee County nonprofit and municipal agencies this summer.
Specifically, the teens – who live in Flint and have completed the TeenQuest pre-employment program --will be assigned work assignments involving horticulture, landscaping and other outdoor-related tasks.
"Our partnership with the MDNR allows us to connect local teens to what is – for many of them – their very first job," said Rhetta Hunyady, Vice President of Education & Training at the Flint & Genesee Chamber. "It also exposes the students, most of whom have grown up in an urban environment, to some of the many outdoor career opportunities available in our region."
Youth in the MDNR program, which runs through Sept. 30, are employed through the Flint & Genesee Chamber and work a minimum of 10 weeks.
In total, the Chamber expects to help 700 TeenQuest graduates secure employment this summer through the Summer Youth Initiative and MDNR programs. TeenQuest is a free afterschool pre-employment and leadership training program provided through the Flint & Genesee Chamber. Once the teens have graduated from the five-week program, they are eligible to compete for summer jobs – including several funded by the MDNR grant.
For more information about TeenQuest, visit www.flintandgenesee.org/teenquest.