If business is all about who you know, then the more people you know, the better. It's with this mindset that the Flint & Genesee Chamber of Commerce Women's Committee is hosting Speed Networking on Nov. 7.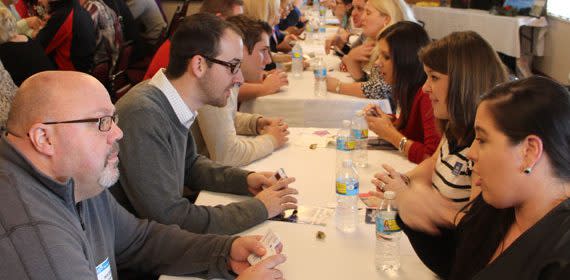 "It can be easy to fall into a networking rut," said Jennie Main, Member Services Engagement Specialist and Chamber Liaison for the Women's Committee. "This event offers a great opportunity to meet several professionals – who represent a wide range of industries, specialties and talents – in a short amount of time."
Much like speed dating, professionals will spend just a few minutes with each of their fellow attendees. After that, a bell will ring, signaling that it's time to change partners.
By the end of the event, each attendee will have exchanged information with several area professionals – planting the seeds for potential partnerships and relationships down the road.
While there are countless tips and tricks for networking, Main suggests four for this particular event:
Arrive on time. Networking will begin promptly at 5:30 p.m., so give yourself a 30-minute cushion to check in, snag some appetizers and hit the cash bar. Doors will open at 5 p.m.
Prepare a one-minute elevator pitch. This event moves fast, so craft a quick introduction that communicates who you are, what you offer and what kinds of services and/or partnerships – if any – you're looking for.
Bring plenty of business cards. This is also a good time to bring other promotional items, brochures or handouts highlighting your projects and initiatives.
Send a follow-up email. If you hit it off with someone, keep the conversation going with a follow-up email.
Speed Networking will be held from 5-7:30 p.m. at the Holiday Inn Flint-Grand Blanc Area, 5353 Gateway Center, Flint.
Pre-registration is required, so don't forget to save your seat here. Registration is $10 for Chamber members and $15 for the general public.
Questions? Contact Jennie Main at (810) 600-1459 or jmain@flintandgenesee.org.