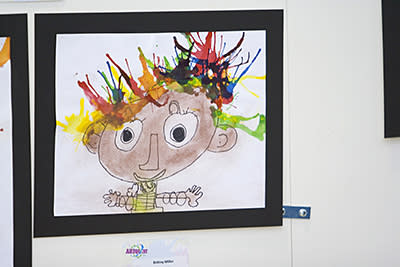 April 6, 2016
Everyone's favorite art exhibition is back for its sixth year and – with more than 2,000 pieces of mixed-media artwork on display – it's bigger than ever.
"ArtQuest is something our students look forward to all year," said Sharri Newman, Program Director of YouthQuest. "They've spent the past six months working on various projects, and now they get to show off some of that work to the community."
Newman said this year's program centers around a literacy theme and is named, "ArtQuest: Your Story." The public is invited to attend the event, which runs from 3-6 p.m. April 12-14, in the Diplomat atrium, 4100 S. Saginaw St. in Flint.
In addition to the artwork adorning the walls, there will be several things to check out during the three-day showing. A few examples include:
Spoken word performances by YouthQuest students.
Installations by local artists Ryan Gregory and Todd Nickola. Highlights include a recycled music wall and book tornado.
The reading room. Visitors can pull up a beanbag and dive into one of the 14 books written and illustrated by the different YouthQuest sites.
A standing, oversized plywood book sharing the story of each YouthQuest site on its 14 pages.
Admission is free, although guests are encouraged to RSVP by calling (810) 600-1422.