A Shark Tank survivor will be the keynote speaker at next week's I-69 Thumb Region's Annual Summit.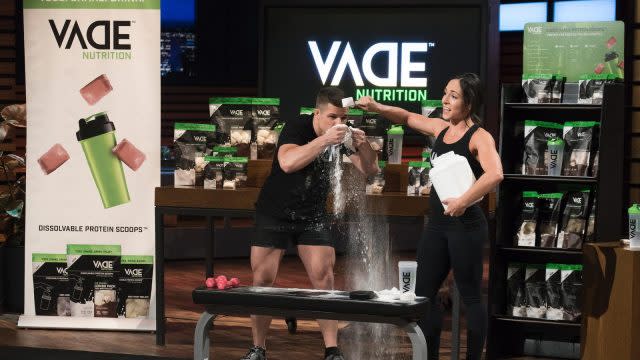 VADE CEO Joe Johnson and wife, Megan, making a business pitch on ABC's Shark Tank in November 2018.
East Lansing entrepreneur Joe Johnson will share insights on what it takes to swim with the sharks of business world when the seventh-annual conference of economic development organizations representing Michigan' Thumb region convenes on Jan. 24 at the Lapeer Country Club in Elba Township. The summit will also include of the finals of the Catapult Small Business Competition, where the county-level winners will make their presentations for a chance to win the top prize of $6,000.
Johnson, a former Michigan State University student-athlete and Eli Broad College of Business alum, along with his wife, Megan Johnson, founded VADE Nutrition two years ago and produces the world's first and only portable protein powder for workouts. Last November, the couple appeared on ABC's popular reality show Shark Tank that features entrepreneurs as they pitch their startups to investors in hopes of earning financial and resource investments.
VADE secured a $700,000 cash infusion from Shark investors Alex Rodriquez and Mark Cuban.
Joe Johnson will also participate in a panel discussion on regional assets for entrepreneurs. He will be joined by fellow panelists:
Janis Mueller, regional director, Small Business Development Center (SBDC) at Kettering University
Heidi McAra, executive director, 100K Ideas
Quentin Bishop, director of business attraction, Economic Development Alliance of St. Clair County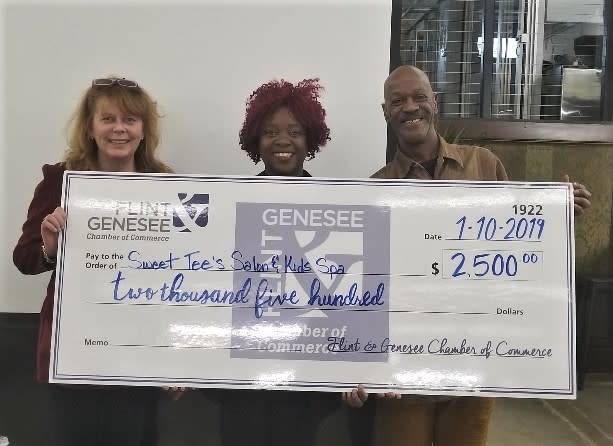 Genesee County first-place winner Theresa Nelson (center) of Sweet Tee's Salon & Kids' Spa, $2,500. Nelson advances to the regional final on Jan. 24.
In addition, the first-place winners of the seven county-level business pitch competitions will square off before a panel of judges at the regional summit. Representing Genesee County will be Sweet Tee's Salon and Kids' Spa, a full-service salon geared to children that won first-place and $2,500 at the Jan. 10 pitch competition, sponsored in part by the Ferris Wheel where the event was held.
The Jan. 24 regional competition will award $6,000 for first place, $4,000 for second and $2,000 for third.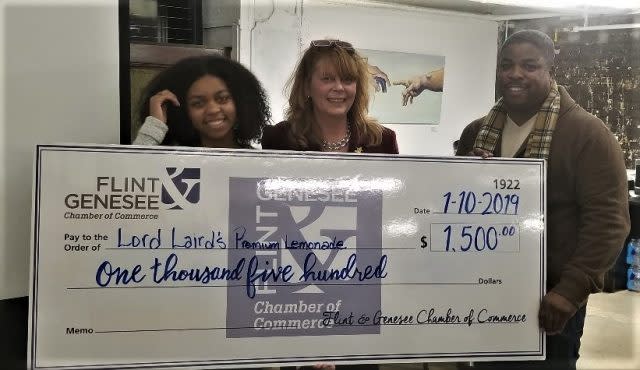 Genesee County second-place Kayla Laird (left), Lord Laird's Premium Lemonade, $1,500.
Competition prizes have been made possible by grant funding through the Michigan Economic Development Corp. and the I-69 Thumb Region – a partnership of the Shiawassee Economic Development Partnership, Flint & Genesee Chamber of Commerce, Lapeer Development Corp., Economic Development Alliance of St. Clair County, Sanilac & Huron County Economic Development Corp. and Tuscola County Economic Development Corp.
The conference will be held at Lapeer Country Club, 3786 Hunt Rd., in Elba Township. Admission is free, but registration is required. Breakfast will be provided. To register, click here.
For more information contact Julie Hipps at jhipps@flintandgenesee.org or 810-600-1429.