August 31, 2016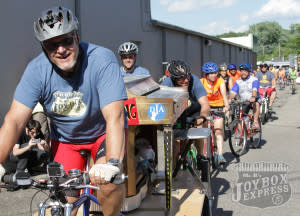 An Ann Arbor-based nonprofit is launching a yearlong fundraising campaign that will benefit art programming provided through YouthQuest and culminate with an especially unique journey – one that involves transporting a 385-pound piano on a tricycle built for three from Flint to Mackinac Island.
The "Sprint 4 Flint: Ride, Swim, Play…Give" project is the latest from Mr. B's Joybox Express, which raises awareness for charitable organizations that enhance children's lives through arts and athletics. The nonprofit does this by taking its custom-made piano bike – powered by a trio of cycling musicians – on the road.
"We are grateful to be included in Mr. B's newest project," said Rhetta Hunyady, Vice President of Education & Training at the Flint & Genesee Chamber of Commerce, which administers the YouthQuest afterschool program. "The arts play a key role in fostering creativity and critical thinking, and physical fitness is an important aspect of achieving lifelong wellness. What better way to inspire our youth than by showing them what's possible when you combine the two."
The "Sprint 4 Flint" ride will kick off August 24, 2017, when Mark Braun – the Founder and President of Mr. B's Joybox Express – and his team will depart Flint with the goal of reaching Mackinaw City within 24 hours. They will be accompanied by guest cyclists who will join them for either portions of or for the entire ride. Braun, an internationally renowned blues and jazz musician, will play piano spontaneously along the way.
After reaching Mackinaw City, event organizers will transport the piano bike to St. Ignace, where it will be loaded onto a small barge. Soon after, Jim Dreyer, a Grand Rapids-based, world-record holding swimmer, will join Mr. B's Express to help swim/tow the instrument to Mackinac Island.
Over the next year, Braun's team will focus on spreading awareness about "Sprint 4 Flint" and the YouthQuest program. Interested in the project? Here are three ways to get involved:
Ride alongside the Joybox Express for all or part of the 240-mile ride, raising pledges from others to support your efforts. Minimum total pledge required to participate: $100
Sign up to ride on the back of the Joybox Express as a "pusher biker" for 10-mile increments. Minimum total pledge required to participate: $500
Make a general donation. Donations are welcome for those who want to support YouthQuest without physically participating in the ride/swim.
For more information, visit www.joyboxexpress.com. To download a pledge form, click here.