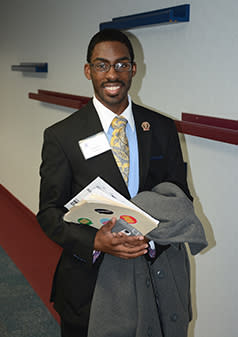 August 10, 2016
Employers looking to fill full- and part-time entry-level positions are invited to attend the Flint & Genesee Chamber of Commerce Job Fair on Sept. 23.
According to Rhetta Hunyady, Vice President of Education & Training at the Flint & Genesee Chamber, there are several benefits to participating in the event as an employer. For instance:
1. It's affordable.
The cost to participate in the Sept. 23 job fair is free for Flint & Genesee Chamber members and $100 for non-members. (Even better, the $100 fee can be applied toward a new Chamber membership!)
2.     There will be a wide pool of applicants.
The FGCC Job Fair, which was previously invite-only, will be open to the public and promoted at all of the local colleges. That said…
3.     …it pays to hire a TeenQuest or Career Edge grad.
Businesses that hire alumni from the pre-employment programs can apply for funds that cover up to half of normal hiring and employment costs during the first 90 days of employment.*
TeenQuest is a five-week training program designed to help high school students ages 14-19 learn how to apply for, interview for and keep a job. Career Edge focuses on helping adults, particularly those who are unemployed or underemployed, navigate the job market.  To learn more about these programs, click here.
The job fair will be held from 8:30 a.m. to noon at Baker College of Flint. In order to participate, employers must register by Sept. 9 online at www.flintandgenesee.org/learn/job-fair-business-application/.
* Please note that this is a limited resource based on available grant support.