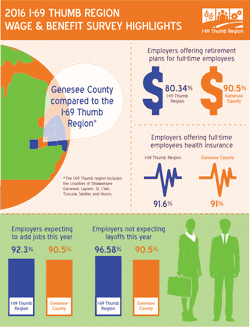 August 10, 2016
The 2016 I-69 Thumb Region's Wage and Benefit Survey has found that employers in the region remain bullish on hiring for the current year. The biennial report also shows the threat of layoffs remain low among companies that responded to the survey.
The Flint & Genesee Chamber of Commerce along with economic development partners in the I-69 Thumb Region released the results of its biennial survey, which is conducted in collaboration with the University of Michigan-Flint.
Survey findings show that more than 92.3 percent of companies surveyed say they expect to add new jobs in 2016, up by more than 6 percentage points from 2014. In addition, nearly 97 percent of companies participating in the survey said they did not expect layoffs this year compared to 93 percent two years ago.
In Genesee County, 90.5 percent of respondents anticipate hiring this year, up from 88 percent in 2014. Meanwhile, 90.5 percent of the Genesee County respondents do not expect layoffs in 2016 year versus 89 percent two years ago.
"This year's results are especially encouraging here in Genesee County," said Tim Herman, CEO, Flint & Genesee Chamber. "Even though the Flint water crisis has presented our area with some unique challenges, we are continuing to make progress overall as a community. Our revitalization strategy hinges on job growth, and this report is an important tool for talent recruitment and business development."
The survey, conducted in the spring of 2016, is designed to gain insights on wage and benefit practices at companies located in the seven-county I-69 Thumb Region. It provides data for area firms to determine their competitiveness as it relates to wages and benefits.
Benefit data for the Thumb Region show that 91.6 percent of participating employers offer health insurance to full-time employees, which is above the 82 percent of employers nationally, according to 2015 U.S. Bureau of Labor Statistics (BLS) data – the most current available. In Genesee County, 91 percent of respondents offer health insurance to full-time employees.
Meanwhile, 80.4 percent of Thumb Region respondents said they offer a retirement plan for full-time employees, with 90.5 percent of Genesee County employers offering such plans. The national average is 81 percent, according to 2015 BLS data.
Nearly 400 companies in the I-69 Thumb Region – encompassing Genesee, Shiawassee, Lapeer, St. Clair, Sanilac, Tuscola and Huron counties – were invited to complete the survey. The manufacturing sector represented 76 percent of the respondents this year compared to 62.5 percent in 2014 – the year the survey was launched.
Paula Nas, Interim Director of Outreach and Lecturer of Economics for the University of Michigan-Flint, said the survey seeks to provide companies, local economic development officials and human resource managers with a clear understanding of the compensation and benefit structure in key industries within the region.
"We're pleased to again have the opportunity to apply the university's resources to the task of supporting economic development in the region," said Nas. "The data will help inform students and educators about the hiring needs of employers and the skills and education that are in demand."
Click here to order a copy of the 2016 I-69 Thumb Region Wage and Benefits Survey.